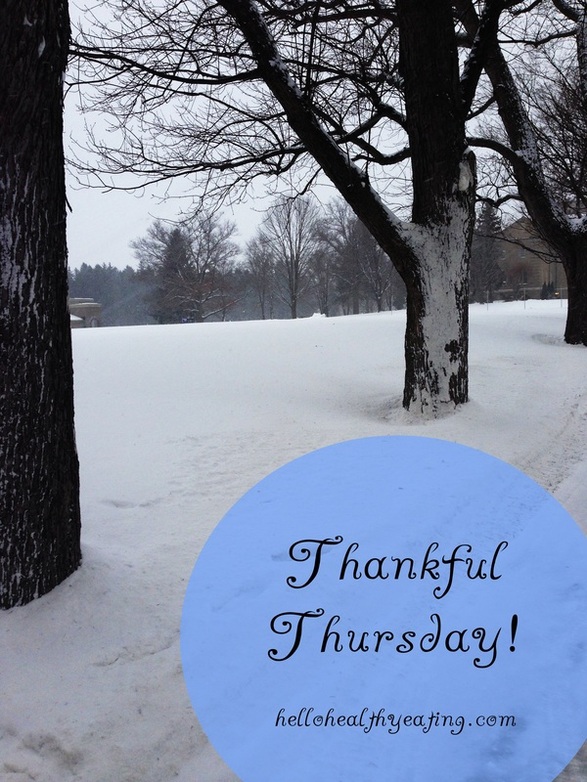 "Give thanks in all circumstances; for this is the will of God in Christ Jesus for you."
(1 Thessalonians 5:8)
Looking to better your health? What if I told you that simply being grateful does wonders for your health? Well, it does! So today for 'Thankful Thursday' I want to encourage you to be thankful for all that you have! Most nights when I'm falling asleep at night I pray to God and I thank Him for my warm house, my cozy bed, my loving family, and my dog on the rug beside my bed. It is so very cold outside and I am tired of all the snow, but I am thankful for the seasons and for the promise of spring and summer to come. I think about how fortunate I am to have an abundance of 'options' for what to eat and what to wear and what to read. I think about my friends… high school friends, camp friends, college friends…Wow! Am I blessed!
Thankfulness is a state of mind, an attitude of the heart. Here are just a few of my favorite reasons to be grateful:
 It make you happy and decreases depression
 It helps you sleep better and longer
It increases longevity and promotes good physical health
It improves emotional response and helps to create quality relationships
It promotes a healthy overall well-being
It helps students get better grades in school
It helps promote a healthy heart
It helps to create a better immune system
It increases productivity and fosters a better work environment
It improves your self-esteem
It increases energy and enthusiasm
It helps you manage stress

Let's be honest, life can be hard. Sometimes it seems like things are just NOT going the way I had hoped and planned. I can get overwhelmed and anxious. I can feel defeated and frustrated… hopeless… But it's actually during the difficult times that I must remind myself to be thankful for the many blessings in my life. I need to look at 'obstacles' as 'opportunities' and then try my best to see how I can change the things I can change and accept the things I can't. If it's a tough 'life lesson', then I need to learn it. If it's a sad time in my life, I need to depend on God to help me overcome it. It's during the really tough times that I need to 'count my blessings' and recall the many wonderful things I have to be thankful for. 
I'm thankful for the important lessons and the people who help me learn them. I'm thankful for the seemingly insignificant things, too! From the cheerful pink polish I just painted my nails with, to the rich warm coffee I'm sipping, being thankful is being happy with all the things God has blessed me with- the good and the bad, the easy and the hard, the fun and the not-so-fun. Let's cultivate an 'attitude of gratitude' and see what happens!
So how about you? What are you thankful for today?!