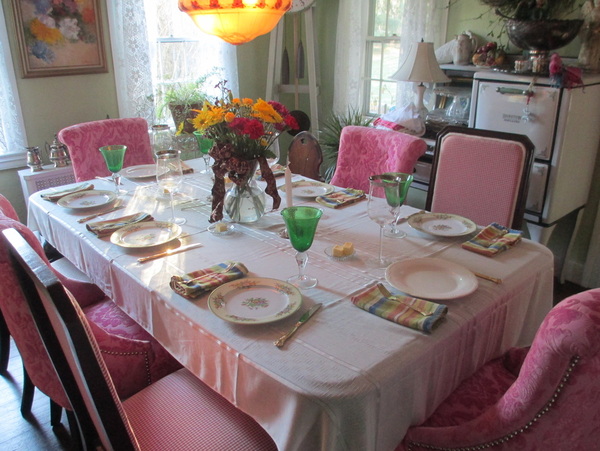 Hey guys!!  Happy Thursday!  I hope that you're all enjoying a great week thus far!  I am so happy to say that we (my brother, his fiancé, and I) have arrived home safely for Christmas break!  Yep, you read that right, CHRISTMAS break!! I can't believe that Christmas is less than a week away!! I am so excited.  Anyway, since we got home tonight, I figured it was only fitting to write about how thankful I am to see my family again.  Even though Thanksgiving break wasn't that long ago it still feels like forever since I've seen them.

I am so thankful for my fam., but today I want to talk about how thankful I am to get to have dinner with them again!  I love my friends at college and it's always a blast going to dinner with them and 'table hopping' as I call it (jumping from table to table so that we get to talk to everyone!) but there is something so comforting about a home cooked meal shared with your loved ones!  I just LOVE it!  And now, for the next three and a half weeks I get to eat with them every night!

Growing up, eating dinner was something we always did together and that is a fact I am so grateful for.  Actually, there are many studies that prove just how beneficial family dinners are.  According to WebMD when you eat with your family, you eat healthier… You eat more fruits and vegetables and less fast food, fats and soft drinks.  As a result, family dinners can help to prevent against childhood obesity, not to mention saving some cash.  Family dinners promote better grades for school children and help to reduce children's drug and alcohol risks.

Not only this, but as we grow older and move out of the house, family dinners can be a time of nostalgia and remembrance!  Even in The Bible, some of Jesus' most intimate moments revolved around the dinner table.  He spent precious time with His disciples and broke bread with His friends.  I think this is something we can all learn from!  The importance of eating dinner together is so much more than just sharing a meal.  It's enjoying tasty food, sharing the day's ups and downs, planning for upcoming events, learning and practicing manners, enjoying each others company… its making memories!  It's taking a little time out of your hectic schedule to sit back and relax with the people you love.

So today, as I arrive home from a busy week of finishing papers and final exams, I am so thankful to share this special time with my family!

How about you?  Did you eat with your family growing up?  Do you now?  What are you thankful for today?