Summertime Barbecues!  Good times with family and friends, fresh watermelon, games on the lawn, and maybe even a campfire to end the night.  Picnics are always a good time!  But as much as we love to relax and enjoy ourselves, it's important that we approach a summer barbecue with the right mind set, to insure that we eat a healthy meal that still leaves us satisfied!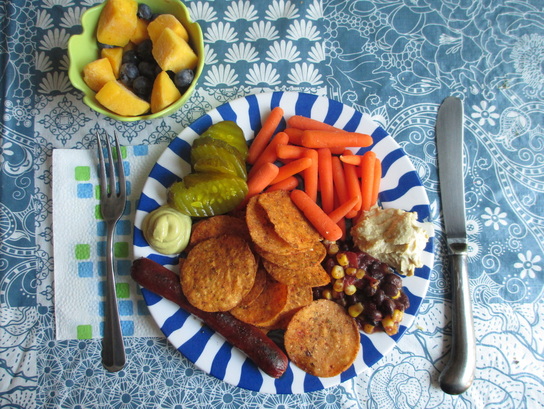 For me, I love to fill my plate with mostly healthy, fresh foods… the rest I fill with special treats, like potato salad, hot dog/ hamburger, and chips!  Luckily for me, my mom usually makes a lot of low-cal versions of BBQ classics.  For example, in her potato salad she uses mostly Greek yogurt and just a bit of mayo.  The hot dogs we buy are "Hebrew National Reduced Fat Beef Franks."  They are delicious, gluten-free, only 100 calories and 8 grams of fat!  She also makes a fresh black bean dip that is sooo tasty!  Recipe to follow…
Whatever you decide to indulge in, I hope that you enjoy it!  Summer barbecue food is delicious and seasonal, so feel free to give in a bit, as long as you do so in moderation!  Hope that you have a great end of summer, and Happy Labor Day!!
Black Bean Dip
Ingredients:
1 can black beans
1 can Southwestern Style Diced Tomatoes (with green chiles, jalapeños, and lime juice)
1/2 bag frozen corn 
Directions:
Mix all ingredients together and enjoy with gluten free chips or veggie sticks!