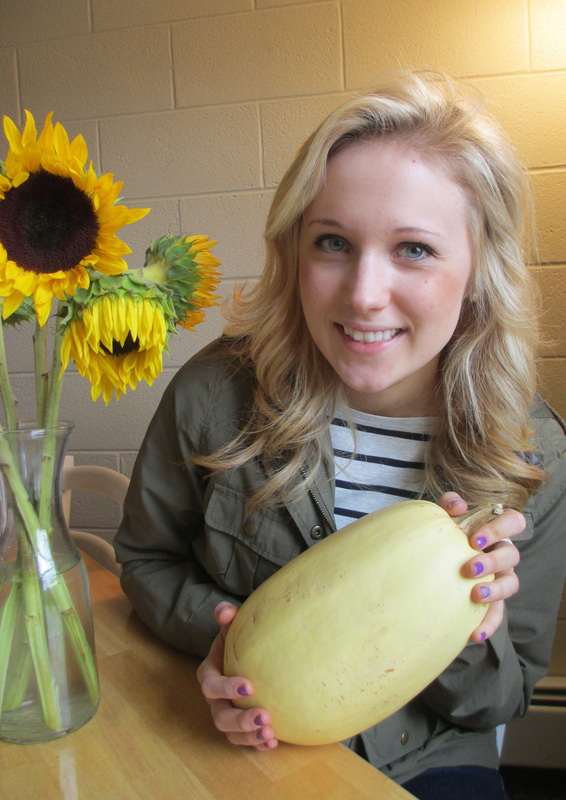 Do you LOVE pasta, but like me, you don't want to eat a bowl full or carbs?   Do you crave a tasty Italian dish, but you don't want the bloated-tummy feeling that sometimes follows a big bowl of the white stuff?  I don't know about you, but when the weather chills down and autumn leaves are falling, I find myself in the mood for a 'superfood' that warms me up and makes me feel both happy AND healthy!  I mean, let's be real, who doesn't love food that loves your body back!?  Today I want to tell you guys about one of my all-time favorite seasonal superfoods…
SPAGHETTI SQUASH! 
Have you ever tried spaghetti squash?  If not, then you are missing out on one of the most interesting and delightful superfoods out there!  I love spaghetti squash because my mind thinks it's spaghetti, but my waistline knows it's squash. It's really a win-win!

Spaghetti squash has roughly 40 calories per cup, as compared to regular pasta which can pack nearly five times as many calories and just about 4 times the amount of carbohydrates per serving.  It's naturally low carb and high fiber!  Spaghetti squash has vitamin A, vitamins C, E, K, and several of the B vitamins.  It contains essential minerals like calcium, magnesium, zinc and copper.  The fiber helps regulate blood sugar and overall, it provides your body with a pretty nutrient dense source of energy!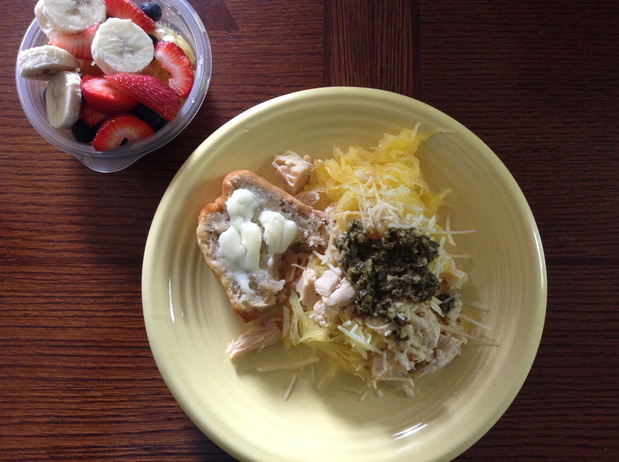 So, how exactly do you cook a spaghetti squash?  Well, you start by washing the outside.  Next, you cut the whole squash down the middle (lengthwise) with a sharp, strong knife.  Be careful, this part is a little tricky… the squash wants to roll, but it helps if you put it on a kitchen towel to hold it in place.  Then you scoop out the seeds and stringy stuff in the middle of each side.  Sprinkle the inside with a bit of salt and pepper and a drizzle of olive oil.  Place each half face down onto a baking sheet and cook at 350 degrees for about an hour (depending on the size).  When it comes out, let it cool down a little.  Flip over and and shred with a fork.  Then scoop out the spaghetti squash and enjoy!!

It's so delicious and versatile AND it's all gluten free!!  I love it with some freshly grilled chicken and pesto!  My sister-in-law made these amazing burrito bowls with black beans, corn, cheese, peppers and salsa.  Delicioso!!  You can even add it to soups or enjoy plain with a pat of butter (if you eat dairy)!  Anything you would do to pasta, you can do to this lovely superfood… and you can feel happy and healthy about it, too.