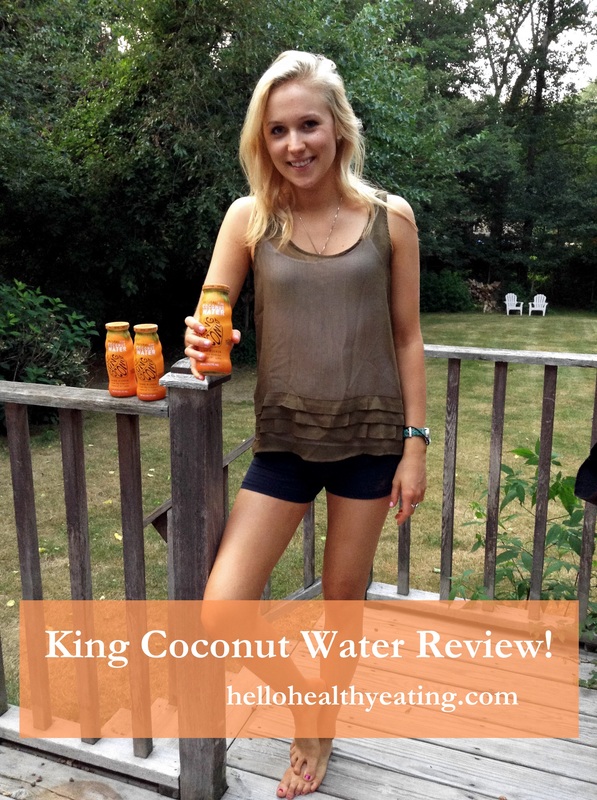 "Let food be thy medicine and medicine be thy food."
-Hippocrates
When it comes to my diet, I choose to eat as 'close to nature' as possible! From the nourishing bowl of oats for breakfast, to my mid-afternoon snack of crunchy carrots... from the protein-packed fried eggs for lunch to the sweet red grapes for dessert... I just
adore
whole, healthy foods. They nourish my body and give me the energy I need to tackle the day. That being said, it only makes sense that I'd choose the highest quality drinks, as well. But finding that perfect drink can be challenging with all the supposedly "healthy" ones out there these days.
I am so excited to introduce you to one of my newest, most favorite healthy products on the market!
It seems like everywhere you look,
coconut water
is popping up as the new superfood! ...and rightfully so! Coconut is naturally delicious, sweet, refreshing and hydrating. But not all coconut water is created equal. Recent studies are finding that coconut water harvested from green coconuts doesn't quite live up to the hype it's been getting.
The problem is that the naturally occurring nutrients in young green coconuts are found in the meat. The water that's left is mostly just sugar at this point. So what's a nutrition-loving girl to do?! Cue King Coconut Water.
King Coconut Water is a totally different form of coconut water. That's because they use orange coconuts instead of green coconuts. (That's totally different than all the other coconut water companies out there.) The difference is that orange coconuts are higher in electrolytes and completely sterile. Orange coconuts are
primarily used for drinking and not processed for their meat or oil. They never actually hit the ground as each one is handpicked. They only grow in Sir Lanka and
King Coconut
works with the local farmers to create a better life for these hard workers and their families. (You guys know I love give-back companies!)
King Coconut
is not only ethically responsible, they're also enviromentally friendly. The remaining coconuts shells are ground up to make a mulch that nourishes the soil. The water is bottled within 24 hours of coming off the tree and it is sealed in a glass bottle (which is reusable... and so cute!) Each sealed bottle lasts 90 days.
This coconut water helps with muscle cramps and promotes healthy digestion. The only ingredients are: coconut water, <1% organic cane sugar (to balance the
sweetness) and vitamin C- which naturally creates a longer shelf life. NO weird preservatives, pasteurizing, or odd additives here! It tastes great straight-up, but I really enjoy the way it improves the flavor and nutrition of a smoothie, changing it from good to great! It's the secret to all my favorite smoothie recipes.
Can you tell that I am pretty impressed with this wonderful water? I've actually decided to partner with this company. If you'd like to purchase some of this quality product, simply go to
http://kingcocos.com/
(or check out the button on the sidebar of my blog!)
This coconut water is a bit pricier than some, but you get what you pay for... and quality is of utmost importance in maintaining a healthy, balanced life!
Sweet Elisha, V.P. over at King Cocos, has agreed to give a 10% off discount when you use the promo code HELLO10.
So what are you waiting for?! Nourish your body with some of the best nutrition you've ever sipped!