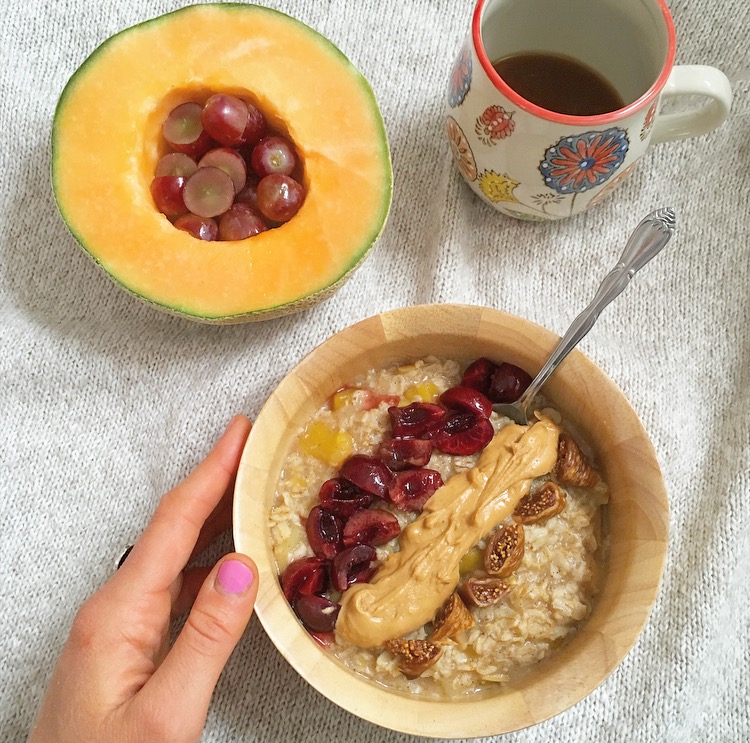 "The only thing I like better than talking about food is eating." -John Walters
I LOVE to eat! (but you probably already know that). I love thinking about food and talking about it and writing about it. I love buying fresh and healthy ingredients and creating beautiful breakfasts, lovely lunches and decadent dinners. I take pictures of my food ALL day long for my Instagram, but the other day I realized I haven't done a "What I ate Wednesday" post in FOREVER. I figured it'd be fun to show my blog followers what a full day of 'eats' looks like for me!
I started my day with one of my FAVE breakfasts. I eat this all the time and I vary the toppings based on what I've got on hand. I simply cook up some stovetop oats with apple or frozen mango chunks and I top it with 1 serving Pb2 + 1 tsp. PB, cherry chunks and some fresh cantaloupe or grapes! Delicious, filling and satisfying. It's also totally plants based vegan. I enjoyed my oats as I sipped some coffee with a splash of almond milk!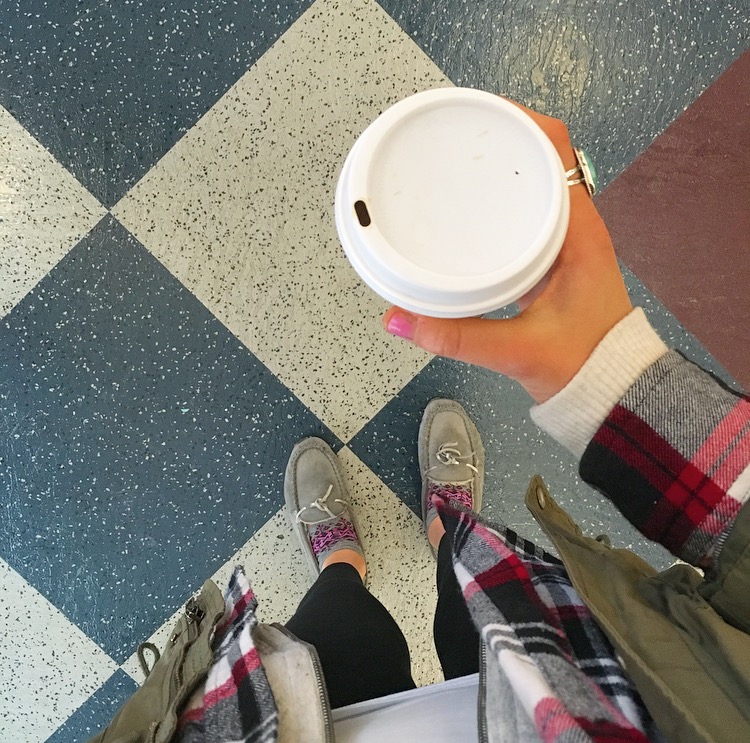 I headed out the door around 10:30am to head to my first exam. Yes, I stopped for more coffee. (I know, more coffee? Yes, more coffee.) In my defense, I was gonna get a half-caff… but they only had regular! I got it with a splash of almond milk (as usual). On a side note, I LIVE in men's flannels. I try to convince myself that my style is "hippie chic" but let's be real… it's just whatever's cozy and, if I'm being real… it's all a little coffee stained.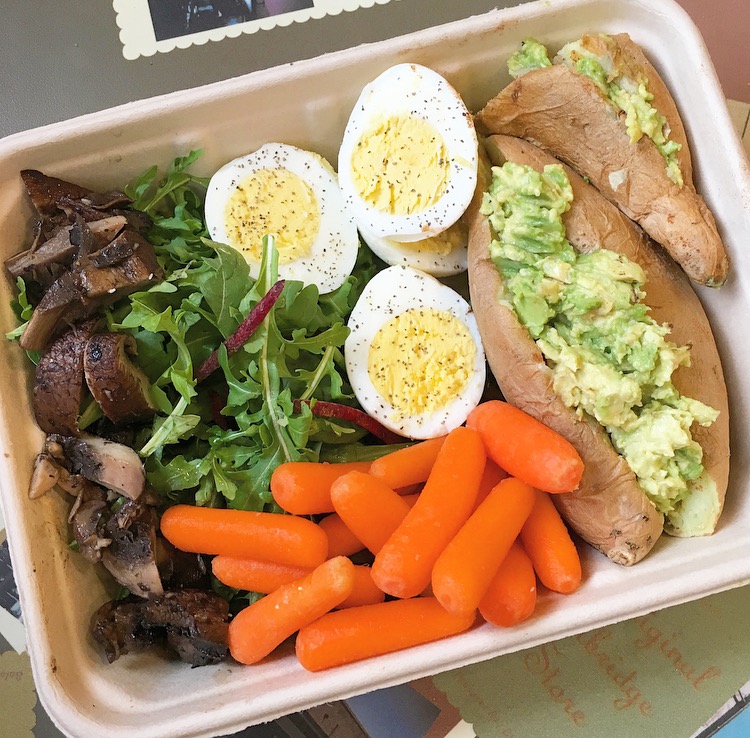 Lunch time! There's a Whole Foods just a couple miles from school, so I headed there for lunch. I got a salad with mushrooms, 2 hard boiled eggs, carrots and a white sweet potato (I cooked that in the microwave there) and topped it with mashed avocado! SO good.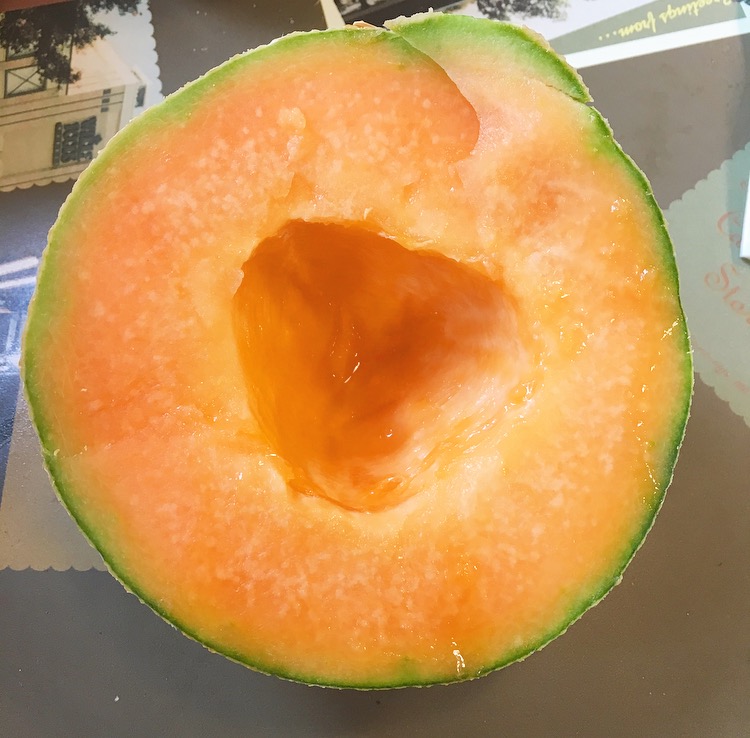 I always eat fruit with my lunch everyday. Today I indulged in half of a small cantaloup!! Such a fave. Also, Whole Foods was packed for some reason today. There was no surplus of extra seats, so this lovely woman came over and sat at my table. We ended up chatting about healthy eats, avoiding processed foods and making smart nutrition choices. She was so sweet and her 'surprise visit' a welcome distraction from my Biology notes.
Also, I gave her my blog card. So, if you're out there reading this… you're awesome!
Dinner! I headed back to campus, but knew I needed to pick up some 'tasty nutrition' for dinner (considering I had 2 more exams later in the day). So I got this lovely plate of Vegan plants based goodness! Keeping it simple with spinach/arugula + avocado chunks, brown rice and Indian chickpea curry. Also, some carrots and an orange that I brought along for the ride. So good.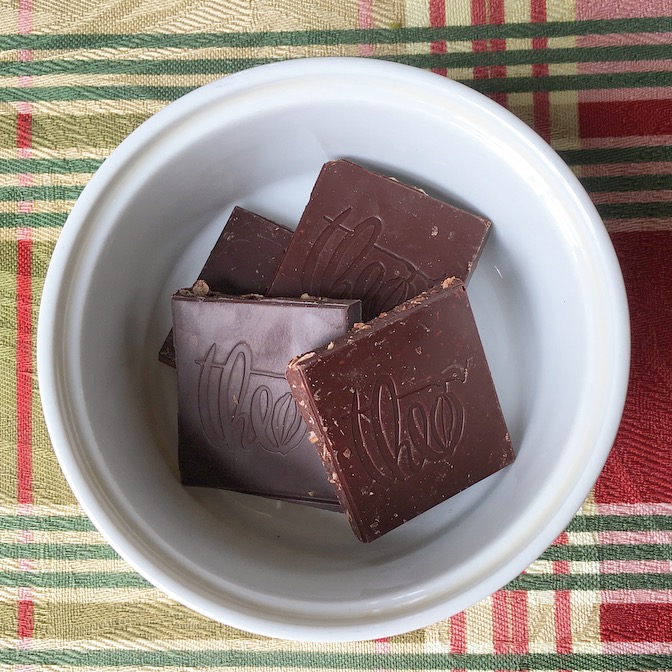 I finished my last exam of the day at 8pm and finally headed home! I pulled into the driveway around 8:30 pm, rushed inside, and then treated myself to a serving of Theo dark chocolate (the special treat I enjoy just about every night) and a cup of tea with almond milk. SO satisfying after such a long day. I enjoyed these little chunks of goodness while watching some of my new show, The Family. Have you guys heard of it?? SO suspenseful!
Well, that was my day! How about you? What foods made you smile today?