"People who love to eat are always the best people." Julia Child
I love to eat! I blog about eating, I take pictures of food I eat, I get inspired by beautiful recipes… I don't know if that makes me 'the best' but it certainly makes me happy! I figured it's about time I did another 'What I Ate Wednesday' post to share with you all the foods I eat in a typical day. I'm all about routine, so this is what a typical day looks like in my life!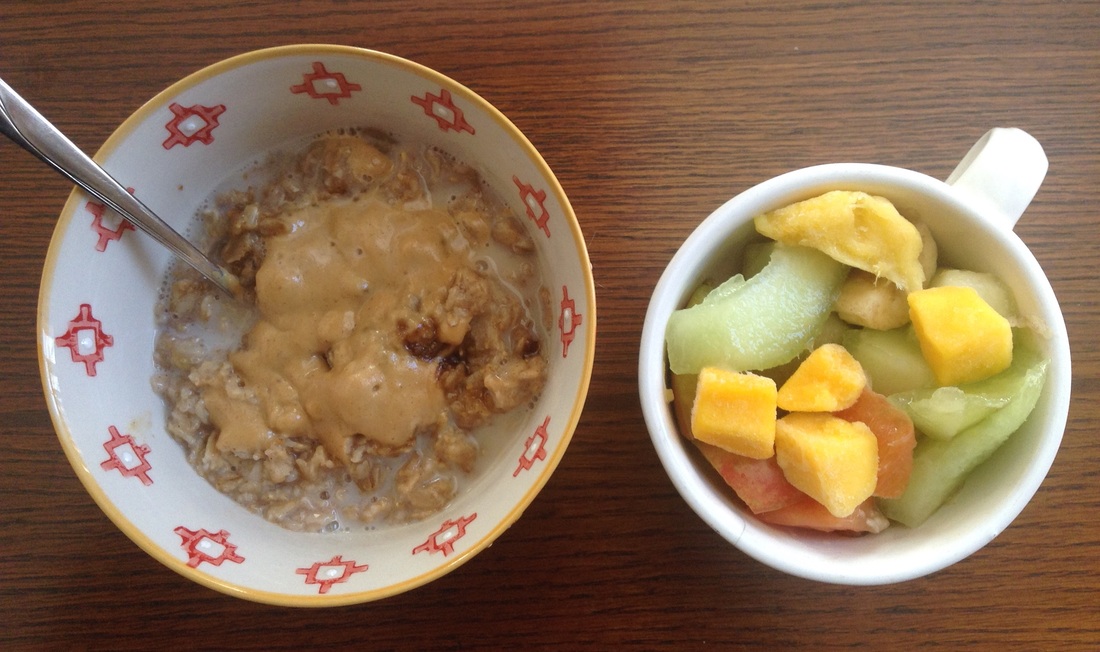 Stovetop oats are my go-to breakfast this time of year. Living at home and taking afternoon and evening classes allows me the luxury of sleeping in a bit and then making a leisurely breakfast that fills me up and nourishes my body. This morning I had a bowl of plain oats with a splash of vanilla almond milk, a teaspoon of brown sugar and a drizzle of PB2 (i.e. the best low calorie peanut butter ever!) I paired this with a small bowl of sliced up fresh fruit. Very refreshing! I sipped some hot pumpkin spice coffee and a splash of unsweetened almond milk!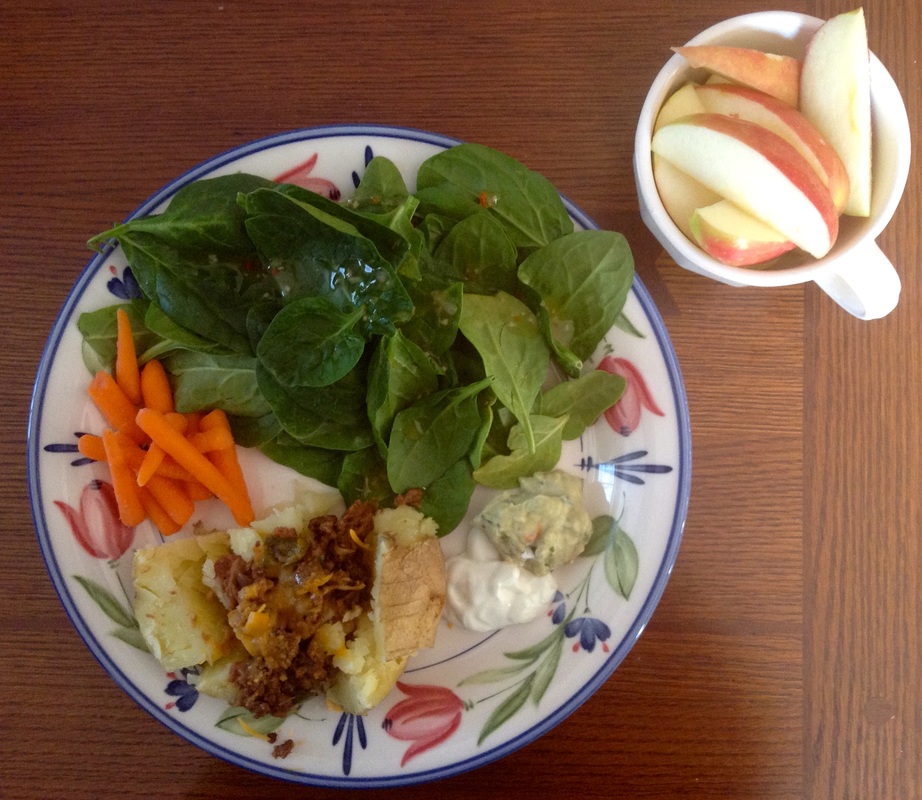 Around 1pm I was ready for my lunch! Today I had a light spinach salad with baby carrots, and a small baked potato with a bit of refried beans, lean taco meat and sprinkle of cheddar cheese.  I paired this with a spoonful of plain greek yogurt (i.e. healthy sour cream) and some Trader Joe's Greek yogurt guac! This delicious lunch went perfectly with a few fresh crisp apple slices! YUM!
Snack time! After lunch I wanted a little 'healthy sweet' so I opted for a Chocolate Chip Cookie Dough Quest bar! Only 190 calories, 1 gram of sugar, 3 net carbs and a whopping 21 grams of protein to keep me full and satisfied! I paired this with some decaf and unsweetened almond milk! I had class at 4 so I grabbed an apple to snack on. I knew I wouldn't be able to eat dinner until late.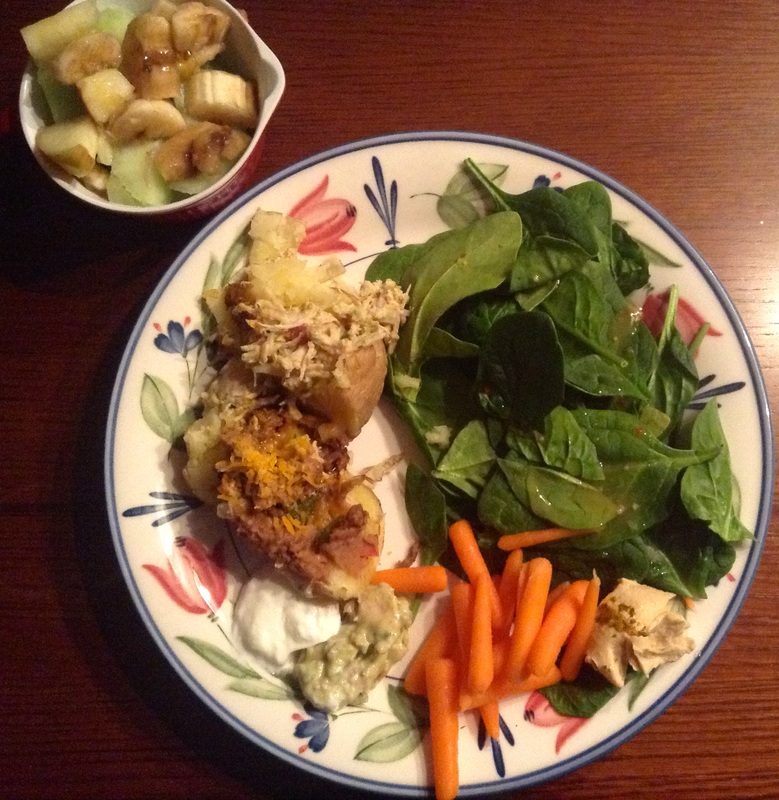 I didn't get home until late. I was quite hungry so I decided to eat some leftovers that wouldn't take much time to whip up. I had a small potato with a little leftover taco filling, some light chicken salad, carrots and hummus, and a light spinach salad.  I paired this with some fresh melon and banana slices!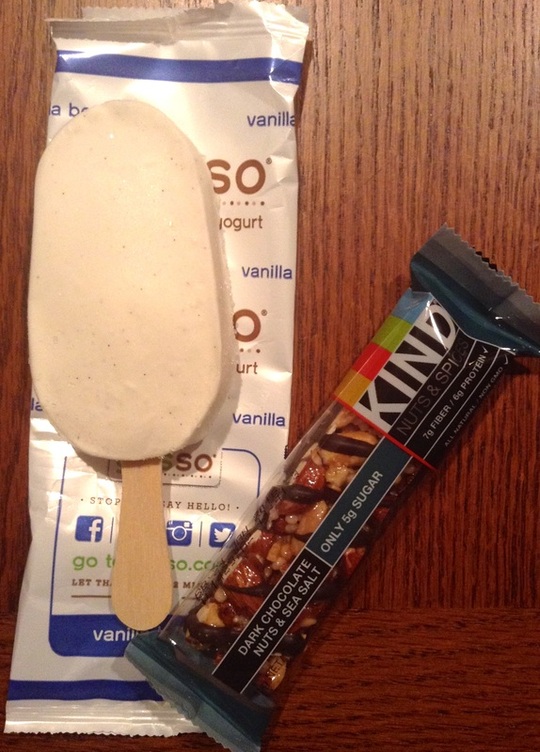 Dessert time!! Tonight I felt like something sweet, but also something nourishing! I decided to grab a Dark Chocolate Nuts & Sea Salt KIND bar which only has 5 grams of sugar! I paired this with a Greek Yogurt Yasso bar. These bars are delicious. They only have 80 calories and 6 grams of protein! Not bad for a dessert! 
How about you?! What did you eat today? Do you ever eat the same thing for lunch and dinner?