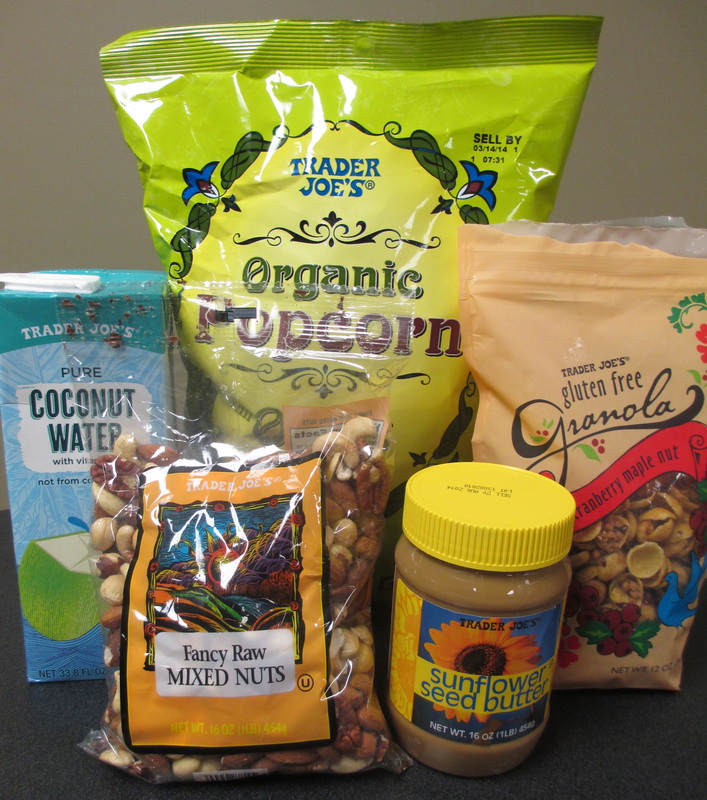 Call me a "trader"… I LOVE this place!  Trader Joe's describes itself as "your neighborhood grocery store" and I call it adorable!  Products sold include gourmet foods, organic foods, vegetarian foods, imported foods, gluten free foods, and staples like fresh bread, cereal, eggs, dairy, and produce.  They also carry natural lotions, household cleaners, vitamins, pet food, plants, and flowers.  This place has so many healthy and tasty options!  I'd like to do a quick review on a couple of my favorite products.
First of all, COCONUT WATER.  Not only is coconut water a refreshing tropical treat, it also balances out your electrolytes because it contains potassium and magnesium.  It's a great natural alternative to processed, sugary sports drinks!
Another one of my favorite snacks is popcorn!  I LOVE popcorn!  But unlike commerical microwave bags, Trader Joe's ORGANIC POPCORN only has 3 ingredients!  Yep, that's right!  Only 3… Corn, Extra Virgin Olive Oil and salt.  Sounds good to me!
Trader Joe's GLUTEN FREE GRANOLA is delicious!  Even if you don't eat 'gluten free' you have got to try this stuff!  It is seriously amazing.  It's perfect in a bowl with almond milk and sliced bananas, stirred into greek yogurt (if you eat dairy), mixed with nuts and raisins to create a trail mix, or even eaten plain right out of the bag!  Next time you are at Trader Joe's and want something sweet, but totally satisfying, pick up a bag of their gluten free granola.  You won't be disappointed!
Like many people, I love the health benefits of nuts!  But most nuts you'll find have been roasted in oil and coated in salt.  And while I do eat roasted nuts, I also love RAW NUTS.  They are softer, fresher, and they just taste more nourishing to my body!  I also love that Trader Joe's sells them mixed!  This way I'm getting the very best nutrition in a wide variety of flavors!
Another thing I picked up is SUNFLOWER BUTTER!  This is a great alternative to peanut butter or almond butter.  A 2 Tbs. serving has 7 grams of protein!  
Next time you go to Trader Joe's (or maybe you have another favorite health food store in your neighborhood) be sure to pick up some of these tasty treats!  I'm sure you have your own all-time best sellers and its always fun to share healthy and tasty ideas.
What's in your grocery cart?