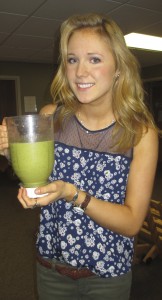 It's about time I made a fresh smoothie!  Being at college, I have become a little too busy (or maybe just too lazy) when it comes to making smoothies.  

The thing about Green Smoothies is that I NEVER regret drinking them.  Even if they aren't as sweet and tasty as an all fruit smoothie, they detox the body and provide a surge of nutrients, one gulp at a time!
This smoothie isn't overly sweet… it's "just right."
As you can see, I just made one, not in some gourmet kitchen, but in my humble little dorm room.  You gotta do what you gotta do when it comes to making healthy choices!
Ingredients:
3/4 cup cubed melon
1 small orange
1 handful frozen spinach
1/2 small banana
1 cup ice/ water
Directions: Blend and enjoy!!  The trick with green smoothies is to blend them COMPLETELY!  Normally, I enjoy chunks of fresh fruit in my smoothie, but trust me… you don't want any green spinach chunks in your smoothie!