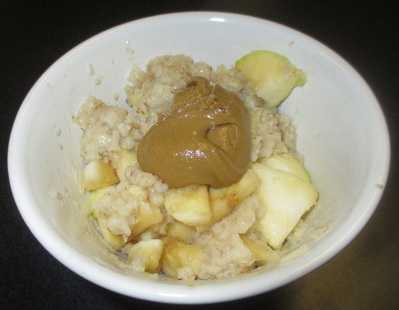 Happy Saturday Everyone!!  We made it to the weekend!  I don't know about you guys… but it's been a looong week.  Between classes, lots of homework and reading, late nights and early mornings… I'm ready for the weekend!

So, today for our 'Saturday Superfood' I want to tell you all about one of my favorite super foods, OATMEAL!!  Oatmeal is easy, inexpensive, satisfying and healthy!  It's one of my best 'go-to' breakfasts, especially as the weather cools down and we crave something 'warm and cozy'.  I keep a big bag of gluten free quick cooking oats in my dorm room.  In the morning (no matter how sleepy I am) I can just mix one scoop with 2 parts water.  Microwave for 2 minutes!  BAM!  I have a hot and tasty breakfast!!
In all honesty, eaten alone oatmeal can be a bit bland.  When I eat oatmeal I like to dress it up a bit.  I add some protein and fruit to make it a complete meal.  I usually add a little spoonful of raw organic honey to sweeten it a bit.  I also love it with a dollop of sunflower seed butter, a chopped up apple and half a banana.  This filling breakfast keeps me satisfied 'til lunch time.

Some 'superfood' facts about oatmeal?  For one, it's packed with fiber and healthy whole grains!  I looked at the nutrition facts on my oatmeal.  Apparently, just one serving of these tasty oats has 7 grams of protein!!  That's about as much as a serving of peanut butter AND it's nice and low in fat and sugar.  Oats actually lower cholesterol levels naturally and are a proven way to help reduce your risk of cardiovascular disease. Oats help stabilize blood sugar levels and help reduce your risk for Type 2 diabetes.  Oats fill you up with very few calories, and they're delicious!!  There are so many different ways to enjoy a bowl!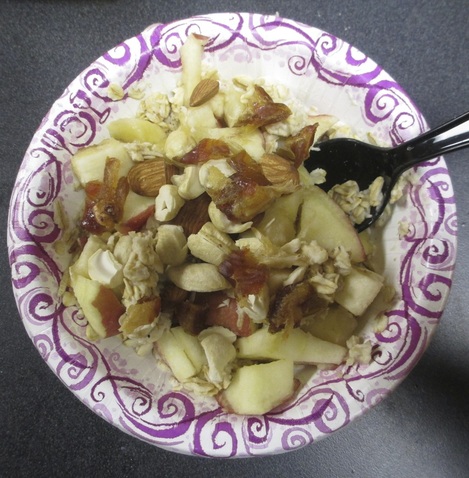 You can cook some oats with coconut water and add some raw almonds and chopped bananas to make a tropical treat!  YUM!  Another way to enjoy it during Thanksgiving season is to mix it with some pumpkin puree and a few chopped walnuts or pecans… what a savory autumn treat!!  I've also had mine mixed with summer fruits like mango, strawberries and pears!  Have you ever tried cranberry walnut oatmeal with raw nuts, banana and chopped dates for extra sweetness?  But my all-time favorite is plain oatmeal with chopped banana, peanut butter and a sprinkle of mini semi-sweet chocolate chips on top.  YUM!!

The point is, oatmeal is so versatile.  If you're relaxing on a leisurely Saturday morning or rushing around in a big hurry, you deserve a healthy bowl of oatmeal!  But toss out the processed little packets filled with sugar, preservatives and other nasty ingredients!  Get the real stuff and choose your own delicious additions… Tasty AND healthy!

How about you?  Do you LOVE oatmeal like I do?  Do you have any favorite oatmeal recipes?