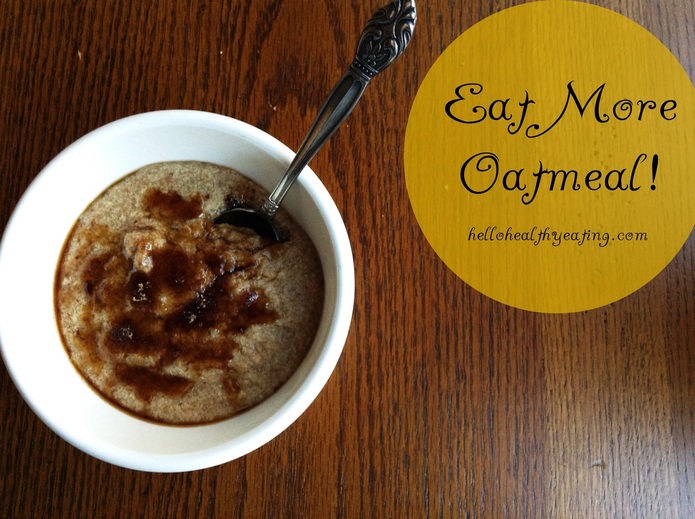 Nothing warms me up and gets my day started like a warm bowl of oatmeal! 
I don't know about you, but these chilly mornings have me craving cozy, comfortable, creamy foods… nourishing and delicious, wholesome and healthy, filling but not fattening. We all know how important it is to eat a good breakfast, so why not enjoy a bowl of oatmeal? Here are some reasons that will inspire you to 'eat your oats':

A serving of oatmeal has about 150 calories, 6 grams of protein and 4 grams of fiber

It contains 25% of your daily magnesium needs as well as selenium, phosphorous, and zinc

The soluble fiber in oats help to lower cholesterol and boost your cardiovascular health

A serving of oatmeal costs less than 15 cents!! (cheap AND tasty!)

Oats were actually one of the earliest forms of cereal cultivated by man

75% of households in the US have oatmeal in their pantry

The most popular way to use oatmeal (besides cereal) is in 1. Oatmeal cookies 2. Meatloaf and 3. Fruit crisps

The fiber in oatmeal aids in weight loss because it keeps you fuller longer 

It is full of antioxidants and reduces the risk of high blood pressure
I could go on and on, but now I'm really craving oatmeal and I want to tell you some of my favorite ways to enjoy it:
with a splash of almond milk and some dark brown sugar

a handful of Craisins and dark chocolate chips 

sliced-up bananas and a scoop of almond butter

a hefty shake of cinnamon and some toasted walnuts

fresh blueberries and heart-healthy pecans

chopped up apples, raisins, and more cinnamon

fresh strawberries with sliced almonds

creamed honey and any raw tree nuts

real maple syrup and pumpkin seeds

shredded coconut and gluten free granola

canned pumpkin (best swirled in while cooking)
Well, I hope you're inspired. Don't let anybody tell you that oatmeal is boring… IT'S NOT!

Do you like oatmeal?!