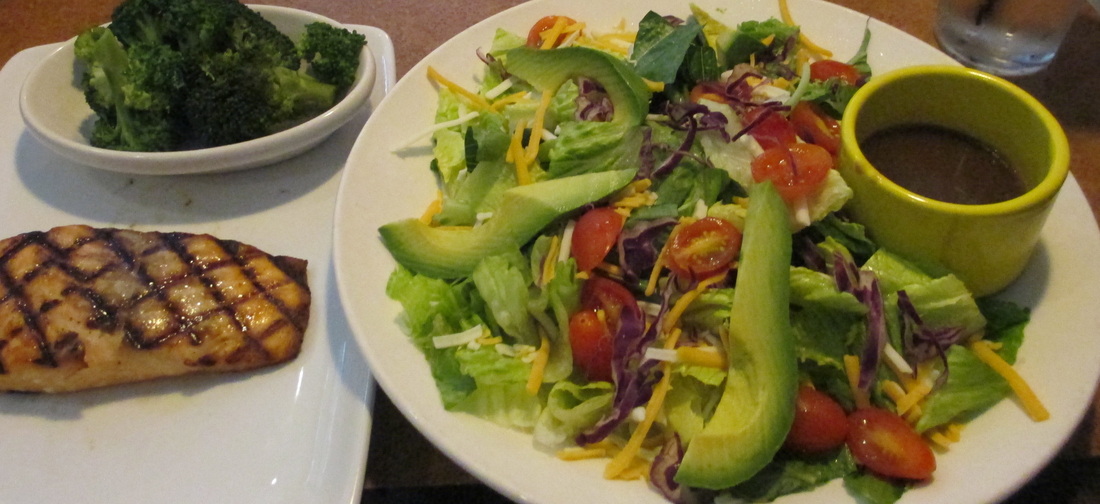 Eating out and enjoying a social atmosphere with a friend is something I truly enjoy!  But when you're staring at all the tasty treats on that restaurant menu, it can be hard to find something that fits your dietary needs.  I find that a great way to create a healthy meal is to order 'a la carte.'   For example, when I went to Friday's last week I ordered a simple garden salad with avocado and light balsamic dressing on the side.  I also ordered steamed broccoli and grilled salmon to complete my meal.  Not only did this give me exactly what I wanted, but it also allowed me to make sure that everything was gluten-free.

Next time you go out to eat, I highly recommend ordering a simple salad with various toppings on the side.  Like I explained in my post about restaurant salads, they are usually high in calories and unhealthy fats.  Eating 'a la carte' like this fuels your body and gives you 'tummy love!'

Ultimately, I love eating at a restaurant for a special treat.  It's a fun part of life that shouldn't be avoided!  With simple, smart choices you can save yourself hundreds of unnecessary calories…all while enjoying a nice, tasty meal!