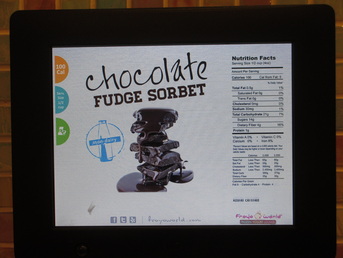 Okay… I don't know if this really qualifies as a restaurant for my 'restaurant review'… but regardless, froyo places are popping up all over the country!  Sweet Frog, Orange Leaf, Menchie's, Nuyo, Froyo World… chances are theres a froyo place right near you.

I love going with friends to get froyo, but since I try to limit my dairy intake, I'm always stuck with sorbet… and I'm not complaining about that!  Sorbet is sweet, creamy, satisfying and refreshing!  But sometimes I want something different than a fruity flavor.  If you know how much I occasionally crave chocolate, then you will understand how pleased I was when I went into my local froyo place and saw that they had chocolate fudge sorbet.  YUM!  Seriously… this stuff was delicious!  Besides the Swedish fish and some berry chocolates (which I just couldn't resist) I decided to stick with a chocolate peanut butter theme!  So good 🙂  
So next time your out and about and a chocolate craving hits you, then stop by a local froyo joint and indulge in a bowl of sweet chocolate goodness!  If they don't carry it yet, be sure to request it!  You'll be glad you did!
---