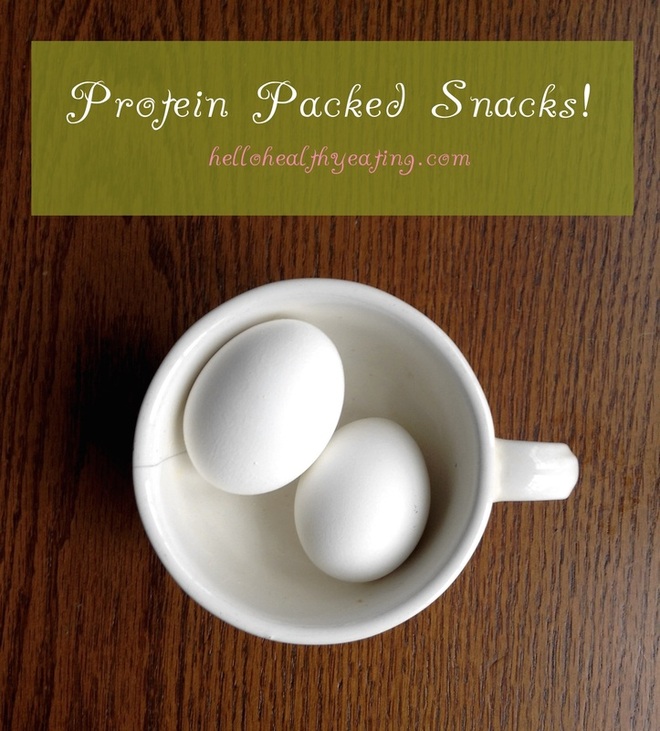 Do you eat enough protein? 
Did you know that the average person should consume about 50 grams of protein each day? (46 for women and 56 for men.) The benefits of protein are seemingly endless. Protein is an important component of every cell in your body. It's an important building block of your muscles, bones, cartilage, skin, and blood. Your body uses this 'macronutrient' to build and repair tissues.  It's obviously pretty important. 
Eating protein-packed foods can help lower your body fat percentage and reduce your hunger (which aids in weight loss.) It can help get rid of belly fat, build up muscles, and improve the look of your hair, skin and nails. It protects your bones from osteoporosis and helps you sleep better. Yep, protein is pretty important.
But getting enough protein can be hard, especially if you're following a vegan or vegetarian diet, or simply trying to reduce your consumption of meat. Getting enough protein from snacks can be difficult as well. When you're feeling hungry it's easy to reach for high carb/low protein snacks like pretzels or chips, or even 'healthy options' like whole whole grain crackers. But they lack the substantial protein we need to keep fueled and energized for the whole day. Well, that's about to change! Here are my fave protein-packed snacks to keep you satisfied between meals!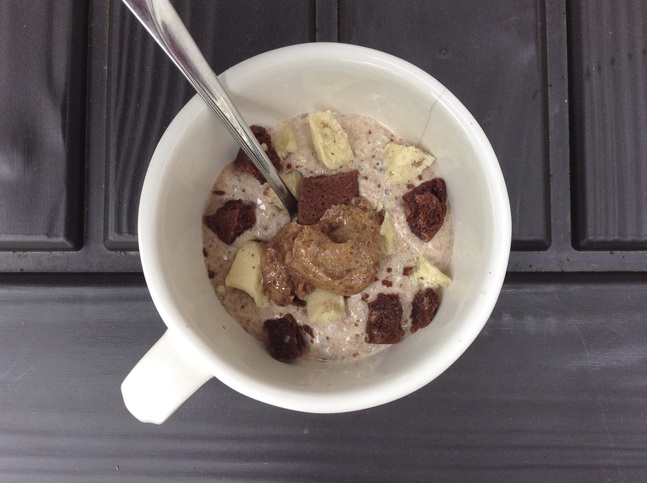 Chia seeds are packed with plants-based protein. One ounce of chia seeds contains over 4 grams of protein and 11 grams of filling fiber. They're packed with nutrients and are actually considered to be one of the most nutrient-dense foods on earth! My favorite way to enjoy these healthy little seeds?
…pudding!! Who knew that you could make your own healthy version of tapioca pudding using almond milk, greek yogurt, vanilla extract, maple syrup and chia seeds! 5 simple ingredients and you have yourself a healthy, filling, protein packed snack! 🙂 I topped mine with fruit juice sweetened cookies and almond butter! YUM!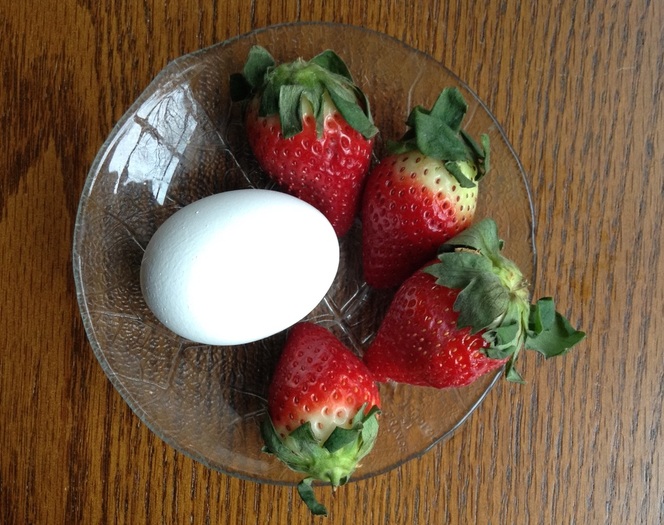 Nothing beats a hard boiled egg to fill you up on just a few calories! One egg has less than 80 calories and 6 grams of filling protein! Hard boil a few eggs at the beginning of the week and keep 'em in the fridge so they're quick and easy to grab when hunger strikes. Try pairing your egg with a bit of fresh fruit! Fruit's natural sugars will give you a quick boost of energy while the fiber from the berries paired with the protein in the egg will keep you filled up until your next meal!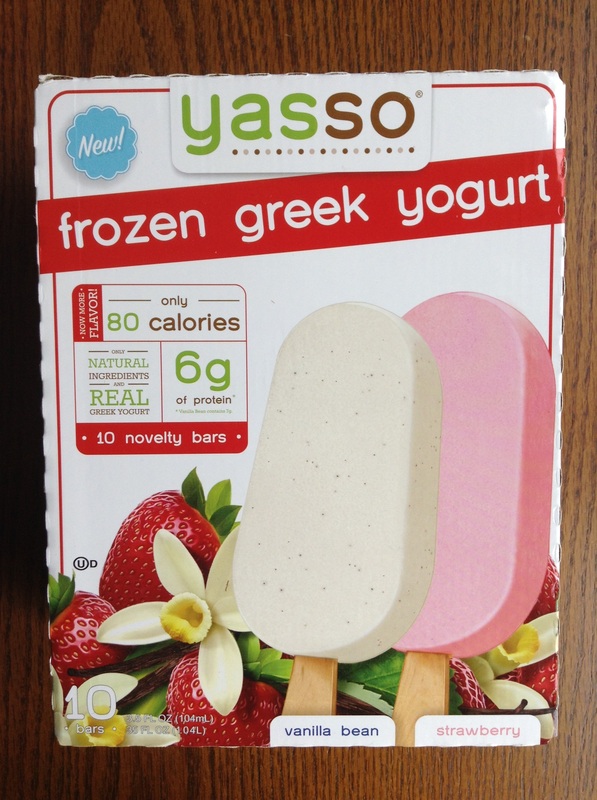 Need a little afternoon boost? Or simply a sweet treat to end your meal? Look no further than Yasso Frozen Greek Yogurt Novelty Bars. Seriously, these things are amazing! At just 80 calories and 6 grams of protein each, these are the perfect high protein treat! They're so delicious I often find myself eating them in pairs!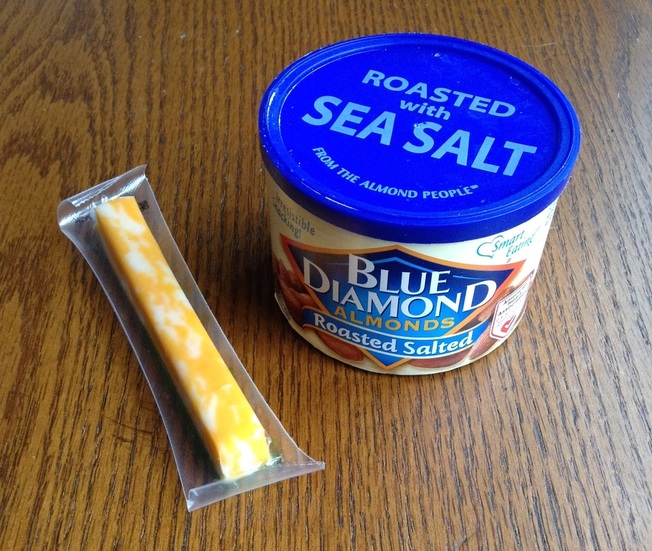 Nothing beats almonds for a heart-healthy, plants-based, high-protein, on-the-go snack! A serving of almonds packs 6 grams of plants-based protein to keep you filled and satisfied! Looking for a little more protein? Add a low-fat cheese stick for 6 more grams and you've got yourself a lovely little snack that contains a whopping 12 grams of Vegetarian protein! 
YUM! Greek yogurt! A 100 calorie serving of 0% Fat unsweetened Greek yogurt contains a whopping 18 grams of protein! And with just 7 grams of naturally occurring sugars, feel free to add a drizzle of raw honey and some chopped fresh fruit to make it a little more special! Greek yogurt helps with digestive help, blood pressure, weight management, and bone health. ENJOY!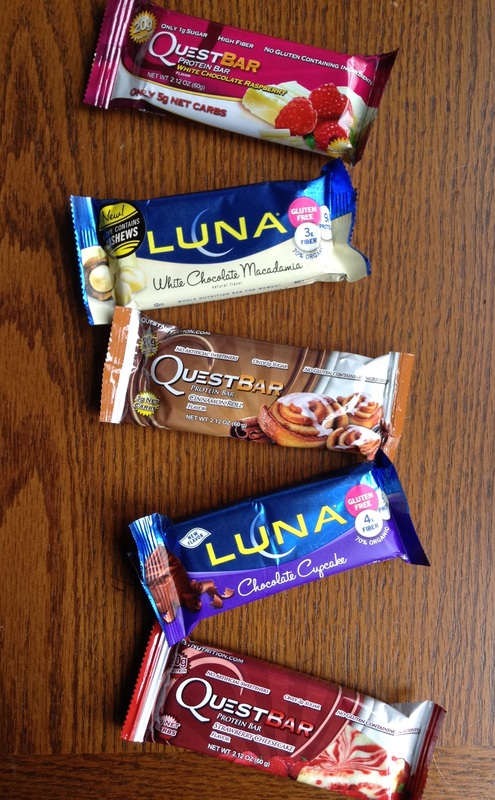 When in doubt, grab a protein bar! I know some of them don't taste too good and some even contain artificial sweeteners (which is a big no-no.) But I LOVE a good quality bar! It makes getting enough protein easy (and tasty) to do. Some of my favorite bars include Quest bars and LUNA bars. I love these two flavors because they taste like a delicious dessert! 
What about you?! What are your favorite ways to get your protein?!