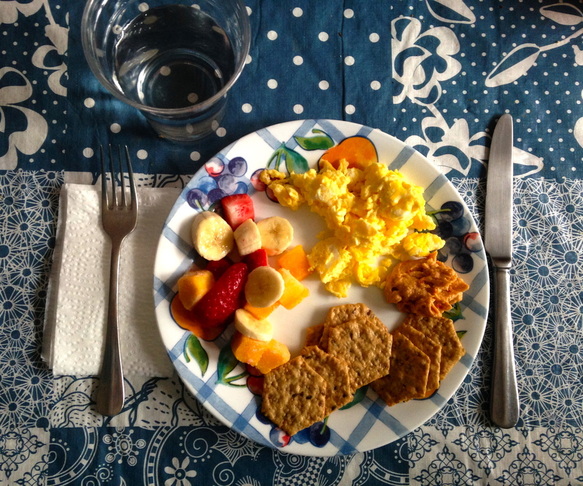 Ohhh… breakfast!  Ready to get motivated this Monday?  Start your day with a healthy, nourishing breakfast and you'll be on the right path!
You know what they say, "Breakfast is the most important meal of the day!"  Well, I'm here to tell ya, they're right!  I enjoy breakfast, I do… and I know from experience that skipping breakfast is NOT the way to lose/ maintain a healthy weight.  I'm not saying you need to stuff yourself with eggs at 7am… I'm not even saying you need to have eggs for breakfast!  I'm just saying… when you start your day off right, everything feels better!
Here are 3 reasons why you should eat a healthy breakfast:
  1. It Gets Your Metabolism Going– Think about your body as a car.  You wouldn't drive your car without gas, so why would you let your body 'run-on-empty'?  Filling your rumbly tummy with some nourishing grub in the AM is a sure-fire way to boost your metabolism so that you're energized and ready to take on the day!

  2. It Promotes Healthy Eating– This is so true for me.  I remember a commercial I once saw for a healthy granola bar. During the ad they explained how, "One healthy decision leads to the next."  Isn't that so true!  The more I eat 'healthy', the more I WANT to eat healthy!  When I start my day with a bowl nourishing of gluten free oatmeal and fresh fruit, by lunch time I'm ready for a healthy, balanced meal!!

  3. It Prevents Late Night Snacking– This may not make all that much sense… but it sure is true.  When you start your day off with a balanced breakfast, follow through with a healthy lunch and dinner, and allow for some nourishing snacks/ treats, you'll find that your desire to snack on junk food late at night is gone… or at least, greatly reduced!  This is because your body is fueled up from 'day-time' eating.  Your BODY can use and burn those healthy calories throughout the day and your MIND knows that you're doing the right thing!
I don't know about you… but these are reasons enough for me to make time to enjoy a healthy breakfast everyday.  If I'm in too much of a rush to sit down to a real meal, that's okay!  I grab something easy (but healthy) and eat it when I get to class.  Some ideas for you to enjoy??- an apple with filling oatmeal, eggs and fresh fruit, nutritious cereal with milk and fruit, a protein bar or fresh yogurt with local honey and berries!  I make sure to eat a healthy, balanced breakfast everyday so that I can feel my best!
How about you?  Do you eat breakfast?  What is your all time fave way to start the day?!