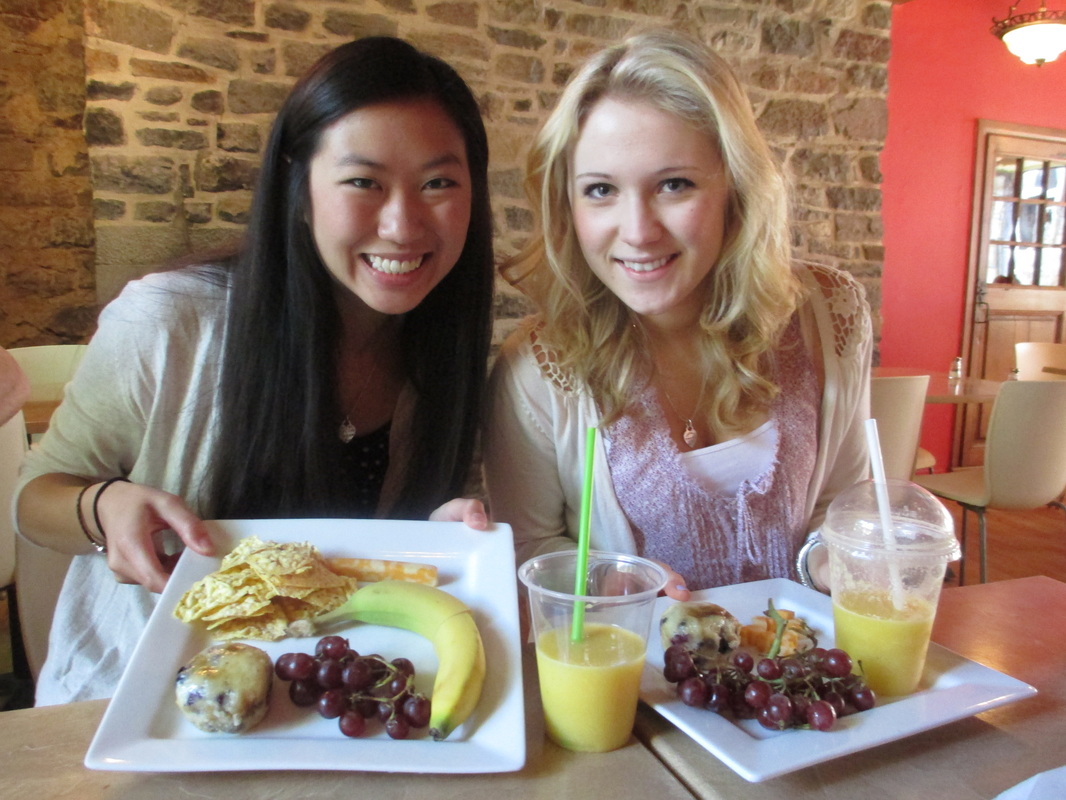 Eating healthy is important!  Eating healthy is inspiring!  Eating healthy is so good for you!  But sometimes eating healthy can be… hard!  It's actually pretty easy to find an excuse to NOT treat our bodies the way they want to be treated.  So that's why I'm instituting a new segment on my blog, inspired by http://rabbitfoodformybunnyteeth.com/banana-roll-ups/

My new segment is called "Monday's Motivation" because, let's be real… sometimes Mondays STINK!  Sometimes we just don't have the motivation to prioritize our 'health' on top of our already hectic life.  The weekend is over, it's back to work, Friday is 5 whole days away.  Sometimes we need a little motivation to keep healthy, happy, and fit!

My first tip for this Monday is:

SURROUND YOURSELF WITH OTHERS WHO HOLD A HEALTHY MINDSET!
Ecclesiastes 4:9-10 reminds me that, "Two are better than one, because they have a good return for their work:  If one falls down, his friend can help him up. But pity the man who falls and has no one to help him up!"
One of my favorite ways to 'stay on track' is with the help and support of others!  Whether it's having dinner at school with a like-minded 'health-nut' or simply eating at home with my gluten free sister-in-law (Allie), I love the companionship and encouragement.  My parents are also very supportive of a healthy lifestyle and are always sure to buy my favorite foods when I come home on breaks (LOTS of fresh fruit, dark leafy greens, healthy hummus, awesome avocado, and even pricey salmon!)
We recently went on a family vacation to Montreal and I was able to enjoy lots of healthy gluten free treats with Allie!  From homemade GF muffins to tasty smoothies, it's amazing how many options are out there… and with someone else who has the same dietary needs as I do, it made choices much easier!  And even if you don't have anyone around you who is really concerned with healthy foods, there are so many online communities that promote healthy living!  Like 'Spark People' and 'My Fitness Pal'.  Check 'em out"!
Let's be real, it's hard to resist tempting treats when everyone else around you is enjoying them.  Warm chewy chocolate chip cookies look, smell, and taste amazing!  And the smile on the face of the person who is about to enjoy them makes the whole experience even more tempting!  But if you hang out with people who love to nourish their bodies and eat well, it'll be easier to choose a healthier option!
So today for 'Monday's Motivation' I recommend you make friends with someone who cares about 'health' as much as you care about you do!  Whether it's a workout buddy, a smart shopper, or a cooking partner…. connect with someone passionate about health and you'll be BOTH be inspired!
How about you?  Do your friends keep you on track?  Do you keep them on track?