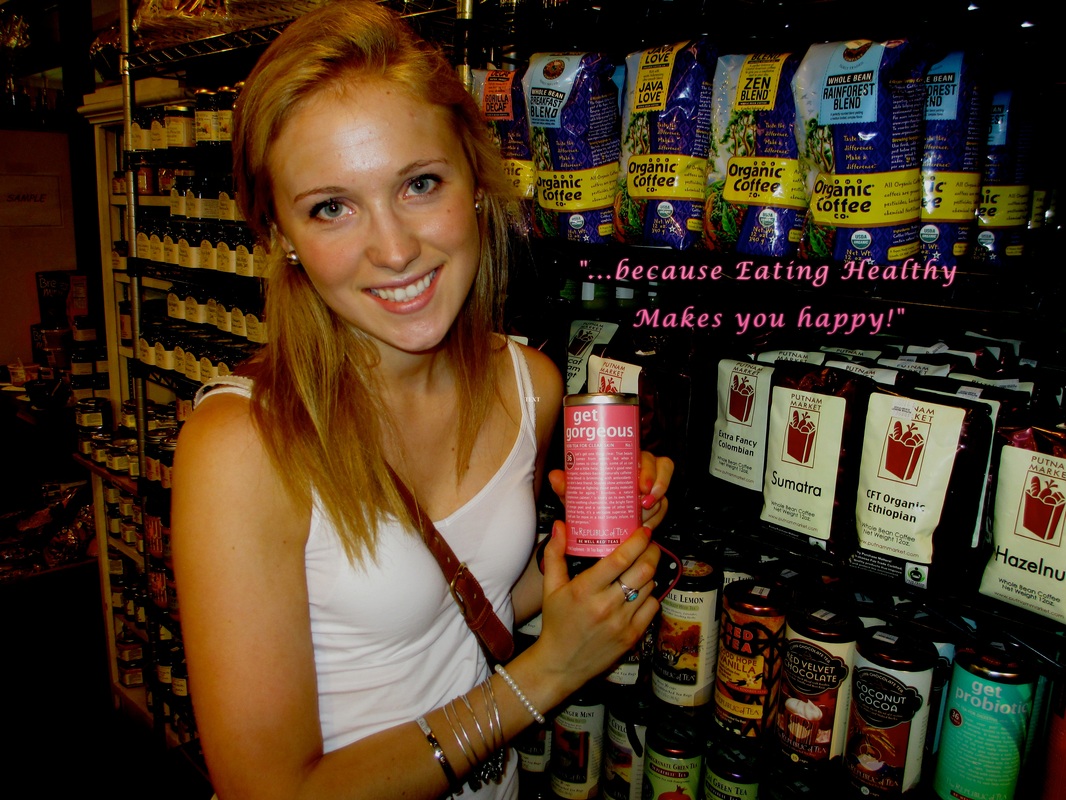 Over a year ago I started 'Hello Healthy Eating' because I wanted to share my 'happiness' with others!  People were always asking me why I was so energetic and optimistic.  I told them: A. I have the "joy of the Lord" and B. I nourish my body with quality foods!  Being a Christian, I know that TRUE and lasting joy only comes from the Lord.  But HE has created an incredible abundance of foods for us to enjoy… foods that promote wellness and good health, but also satisfy our cravings for sweet, salty, creamy, crunchy, tasty goodness.  I am so thankful for 'nourishment' and also for the ability to taste and enjoy His creation.

At the top of my blog I have a quote that says, "…because eating healthy makes you happy!"  It's there because it's so true!  I'm convinced that if people were to start eating healthy and nourishing their bodies, then they would most definitely feel better and more energetic, more alert, and even more beautiful!  There's a strong link between what you put in your body and just how great your body can feel.  Science backs this up!  Research shows that FOOD affects your MOOD!

So for today's "Monday's Motivation" I want to encourage you to eat healthy and nourish your body simply because it feels so good!!

Seriously!  Start you day off with a healthy breakfast, eat a nourishing lunch, and then enjoy a light, but satisfying dinner!  Be sure to include some healthy snacks and you'll be feeling better by bedtime!

Here's a list of 5 of my favorite 'Good Mood Foods' that nourish your mind, body, soul and spirit!  Not only will you love these foods, but they'll love ya right back!
Sweet potatoes!  YUM!  Seriously, sweet potatoes are like my definition of comfort food.  I like 'em hot out of the oven, or cooked and then chilled from the fridge.  They're filled with healthy carbs to keep me energized and focuses.  Sweet potatoes are loaded with antioxidants and packed with beta carotene which converts to Vitamin A in your body.  This aids in eye health, boosts immunity and even helps to promote healthy skin, giving you a natural glow!
Apples!  LOVE em!  I can't get enough of them (especially this time of year).  My friends joke that I'm "always eating an apple" and it's so true!  With less than 100 calories, over 4 grams of naturally fat-free fiber, there's nothing NOT to love about these sweet treats!  Natural cancer-fighters, heart-health promoters, and totally tasty snacks!  Apples are one of 'nature's candies' and are sure to put a smile on your face!
Whole grains.  They're packed with tryptophan which your body converts into serotonin (a.k.a. the "feel-good hormone").  Plus, whole grains help to promote healthy sleep cycles which leads to an overall state of "well-being!"  Being gluten free, you'd probably think I don't eat too many whole grains, but there are so many different sources of healthy grains that are naturally gluten free.  Try quinoa (which is the only plants based complete protein out there), oatmeal (delicious and perfect for a chilly morning) or whole grain flax-rice crackers (SO good with almond butter for an on-the-go snack or quick breakfast)!
Salmon!  Ooooh salmon, how I love this fabulous fish with all of its protein-y goodness!  Salmon is packed with healthy protein and healthy fats!  The omega-3s in this tasty treat are fuel for our brains and help to promote endurance.  World-wide studies show that countries or populations where fish is a regular part of the everyday diet actually have the lowest rate of mood disorders such as bipolar, depression and even seasonal affective disorder.  Talk about a diet-do!
Dark Chocolate!  I couldn't NOT mention dark chocolate, I mean, just thinking about it makes me happy!  I prefer it super dark!  I like 90% the best.  A serving of this rich-goodness clocks in at only 3 grams of sugar and EVEN 4 grams of plants-based protein!  I recently read in a health magazine, that dark chocolate eaters were actually found to be slimmer than those who avoid the sweet stuff.  And I believe it!  I mean, super dark chocolate is incredibly satisfying.  Studies show it actually boasts your mood as soon as you eat it, plus it has naturally occurring caffeine (in small amounts) that helps you power through your day!

These are just my 5 favorite "good mood foods!"  How about you?  What foods do you eat to keep motivated, healthy and happy?