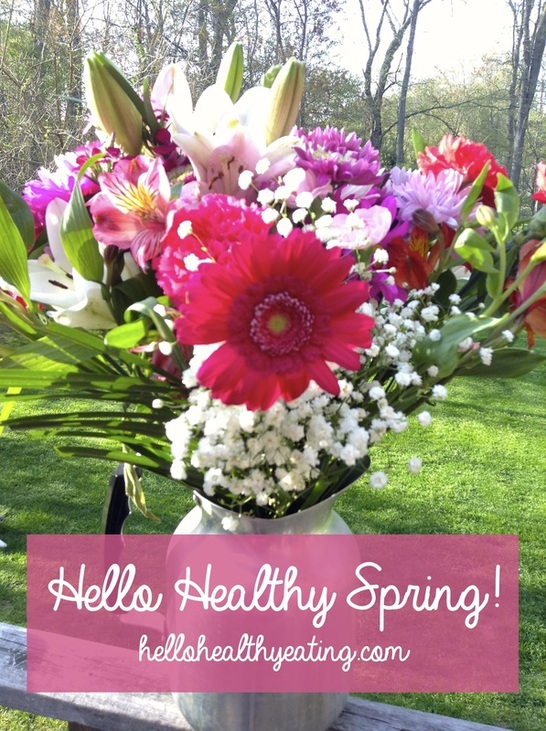 Spring has finally sprung!! Can you believe it? SPRING…April showers, May flowers, green grass, purple pansies, fresh fruits, and a fresh start. It's a new beginning, a time to implement healthy habits, a chance to change, and to try some new fabulous food/ fitness routines to help you look and feel your best!

Today for Monday's Motivation– I want to encourage you to take a new leap and make a positive change for your health! While I'm no fan of doing a complete 180 when it comes to diet and lifestyle, I am all about small little baby steps that together form a healthy, balanced life! So, in honor of Spring time, I challenge you to focus on one change to usher in the new season!

Whether it's trying to drink more water, consume less caffeine, limit processed food, sip more smoothies, eat more salads, or simply take the stairs every chance you get, by focusing on one habit it will easier to yield realistic results. Most 'diets' insist on changing your behavior so drastically that you feel lost (and miserable) just a few days in. This frustration happens pretty quickly, after the initial motivation wears off. But 'willpower' is like a muscle, it has to be used to be useful! If you focus on one change to improve your healthy lifestyle, you'll prevent the stress and confusion that comes from trying to do five things at once!

So I challenge you to change one little thing this month! It may not be as enticing as that 'Detox' that promises clear skin and dramatic weight loss in just a week, but it will be lasting, sustainable and even enjoyable!

How about you?! Are you ready for Spring?! What is YOUR one best healthy suggestion for Spring?