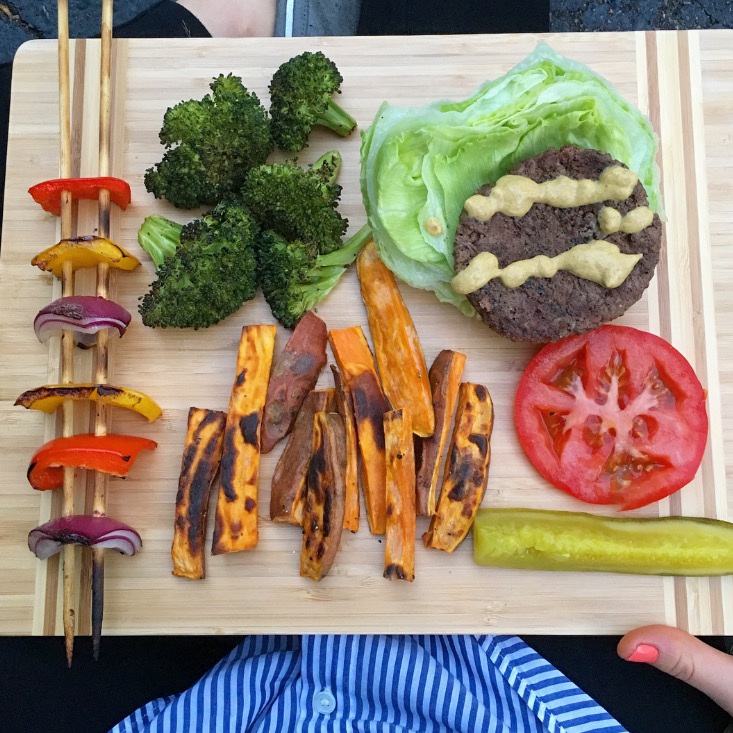 SERIOUS QUESTION: Which do you prefer… Three real meals or snacks throughout the day? For me, it's an easy answer. I'm 100% a meal person. I tend to eat a healthy (but somewhat small) breakfast, a balanced (and larger) lunch, and then I come home ready for a delicious (and good sized) dinner. I love being able to eat to satisfy my hunger on a dependable schedule. I eat in abundance three times a day. I find that when I eat a good balanced meal, I feel physically and emotionally ready to tackle the rest of the day. If I eat a skimpy snack or a tiny little lunch, I just don't get all the energy I need. My mom, on the other hand, is a 'snacker'. Her meals are definitely smaller than mine, but she re-fuels every hour or two with her "snickety snacks". It works for her (and for many others) but for me, balanced meals are a must!
Like this plate of goodness (pictured above)… a scrumptious veggie burger with a satisfying side of sweet potatoes. I used to eat only half my meal when I went out and I'd wrap up the rest for later. A couple hours would pass and I'd be famished again. But now I find myself eating until I'm full (satisfied) and then not needing a snack soon afterwards… unless of course, you count my nightly dark chocolate (which is an essential ritual for me!)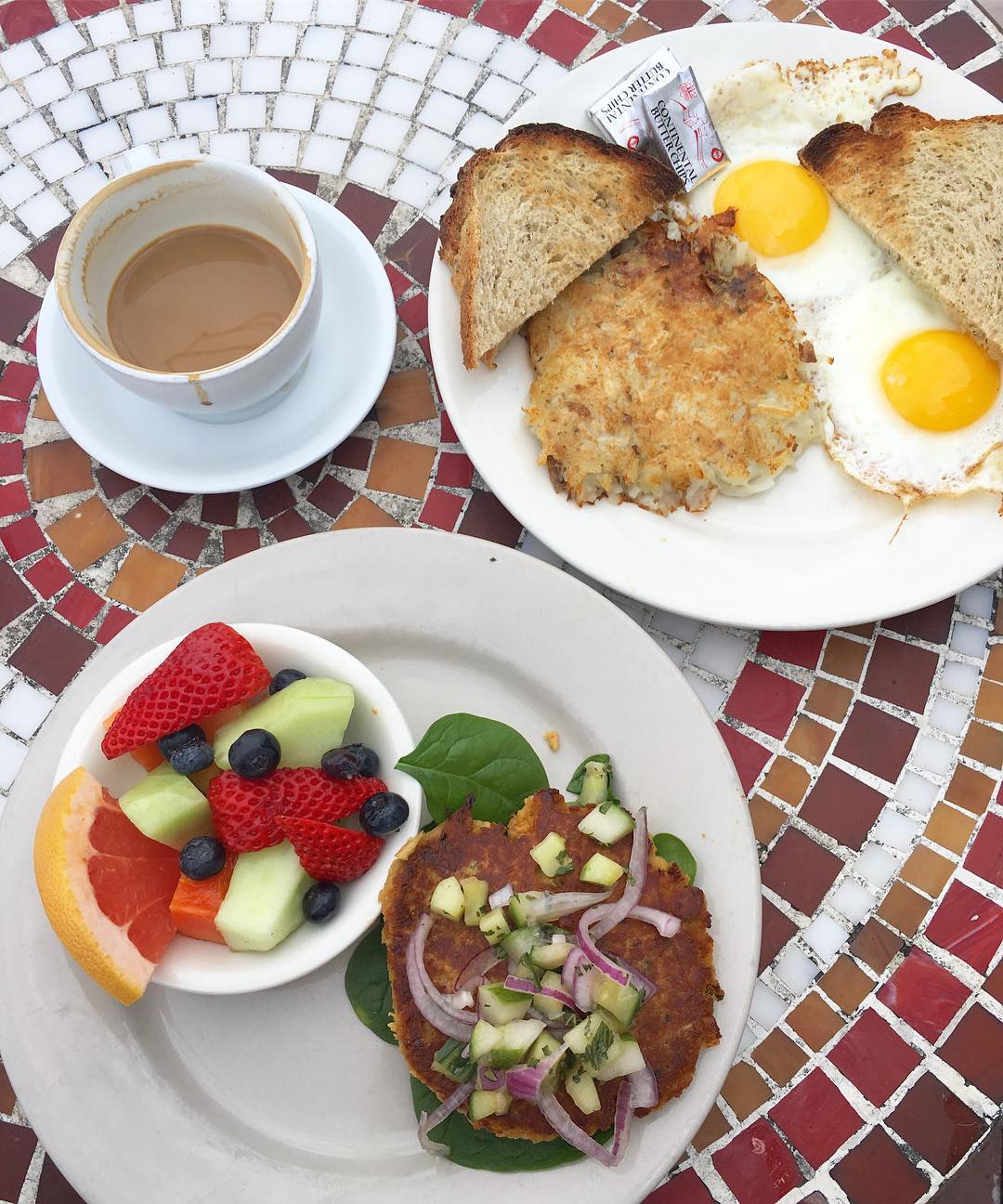 This was my brunch the other day from a cute little cafe. It was so good! I ordered a chickpea veggie burger on a little salad with a side of fresh fruit. PLUS, coffee (obvi!). I'll definitely be ordering this again soon!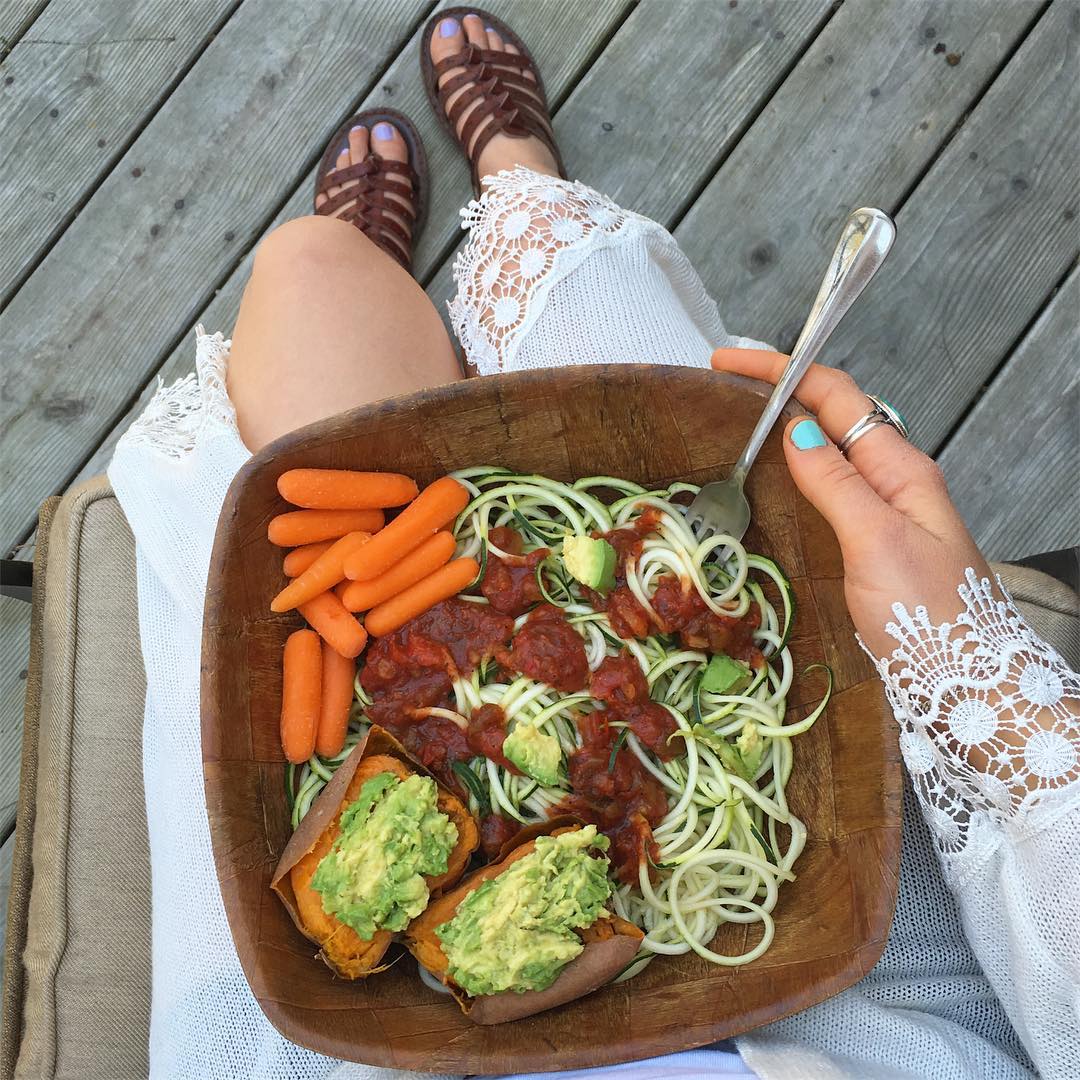 Just because you want a yummy plant based meal, it doesn't mean you need to skimp on calories (in this case, NUTRIENTS). Here I have a massive bowl of zoodles, spaghetti squash, carrots, avocado, and a baked sweet potato with more mashed avocado!
I say I like big meals because I LOVE to eat! Hehe. But it's fine that some people prefer mini meals and snacks throughout the day (like my mom). Little snacks can help keep your energy levels up and prevent that post-lunch 'I need a nap' feeling (LOL). So whichever eating style works for you, it's always good to be flexible. As much as I love my 3 real meals, sometimes life gets busy and I depend on little snacks throughout the day… and that's fine. BALANCE is key. Balance reminds you to listen to your body and to eat intuitively!
How about you? How do you prefer to eat? Are you a meal-person like me, or a snacker like my mom??