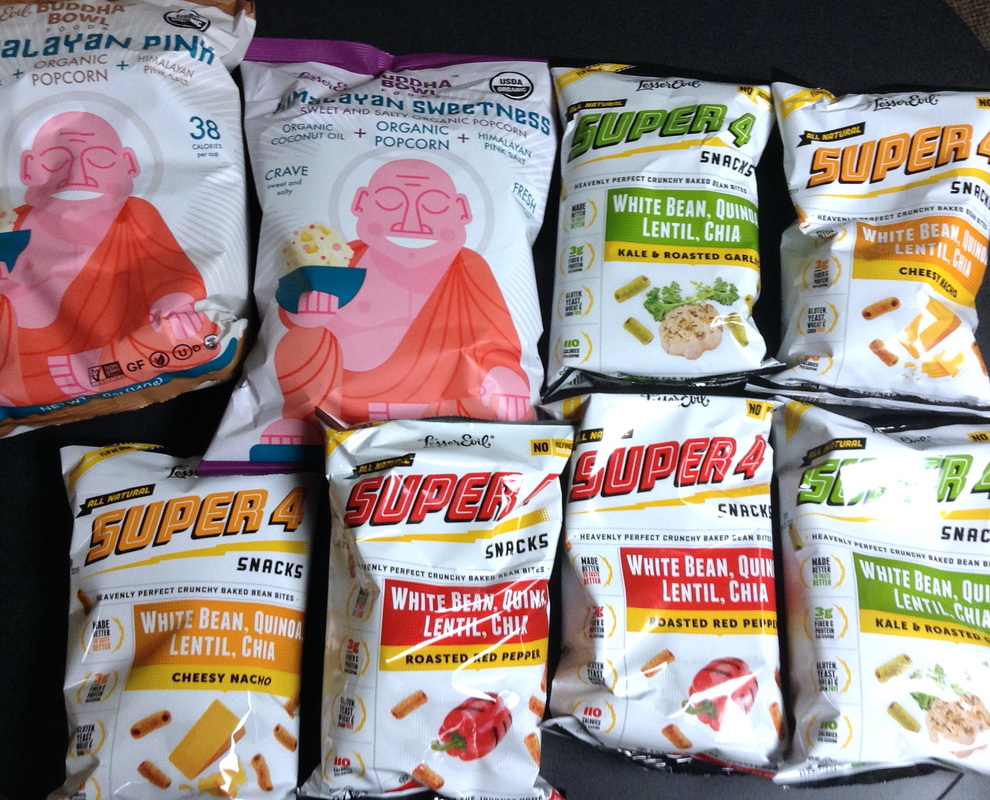 Eating healthy can be hard!  I mean, let's be real, sometimes you just crave something crispy and salty… and while you know fried potato chips won't do your waistline any favors, you also know your usual 'carrots and hummus' just isn't going to cut it today… Cue "Lesser Evil!!"

I am so excited to introduce you to one of my favorite snack brands- Lesser Evil.  I don't know if you've ever heard of them, but they are amazing and you NEED them in your life!!  You can probably imagine how excited I was when I received a whole box of these lovely snacks from the company!  But, I wasn't the only one who was excited!  I brought these back to my dorm and I let some of my friends try them out!

They LOVED the snacks!!  We all agreed they tasted 'healthy'… but still tasty!  I'm all about that!  What's great about these snacks is that the "Super 4" snacks are made with nourishing ingredients like black beans and chia seeds!  These snacks have protein and they're gluten free!!  A serving is 46 pieces and only has 110 calories!!  Talk about 'bang' for your caloric buck!  One thing we ALL loved was that the serving size was so big!  The little snacks are actually shaped like macaroni!  I'm not gonna lie, I feel like a little kid eating 'em… and I love it!  46 cracker snacks per serving means you'll be munching for a while… and enjoying every crunch!

And the "Buddha Bowl Popcorn?"  YUM!  I'm a hard-core kettle corn lover!  It is one of my favorite snacks!  …and I get to have 2 cups for only 110 calories!  The popcorn is made with natural ingredients that you can pronounce (and enjoy)!  Ingredients like organic coconut oil, organic popcorn and Himalayan pink sea salt!!  Their 'regular' popcorn only has 38 calories per cup!  WIN!

I've also enjoyed Lesser Evil's "Chia seed chips" as well!  Seriously delicious… and nourishing!  I love this company because it's so 'up-front' about it's ingredients.  I love it when I find a company I can trust… that makes eating healthier even easier for me!  If you want yummy, healthy snacks, be sure to check out Lesser Evil (such a cute name!).
What about you?  What are some of your favorite snack companies?!  What are your favorite snacks?