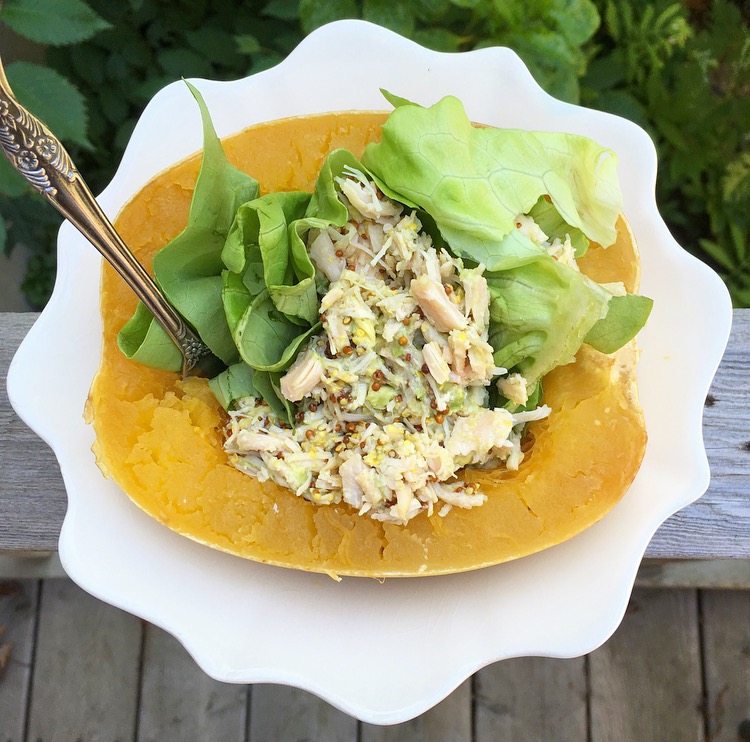 Who doesn't love a good home cooked meal? Don't we all? But when life gets busy, I definitely don't have the time to spend hours in the kitchen. And when the temperatures start climbing, I sure don't want to 'slave over a hot stove.' Yesterday I found myself in a bit of a predicament… I came home from class literally starving for lunch! I scanned the contents of the fridge and scoured through the cupboards. Nothing was jumping out at me and things were not looking pretty. What's a hungry girl to do??
Thankfully, I discovered the leftover other half of a cooked spaghetti squash beneath a tent of tinfoil. Sounds promising, but in terms of a fresh source of protein, we were pretty much all out. I peeked back into the pantry and that's when I spied a can of white meat chopped-up chicken. "That's it!" I cried.
So, I made this SERIOUSLY SIMPLE Chicken Salad. It's just 3 ingredients… totally grain free and dairy free! I simply mixed canned chicken with mashed avocado and a little whole grain mustard. I added some lettuce and plopped it in my mini spaghetti squash bowl for an interesting, yet deliciously happy little lunch. Do Try!!
What's your go-to when you're pressed for time (i.e. when you come home starving and you need to get something in your tummy ASAP?)