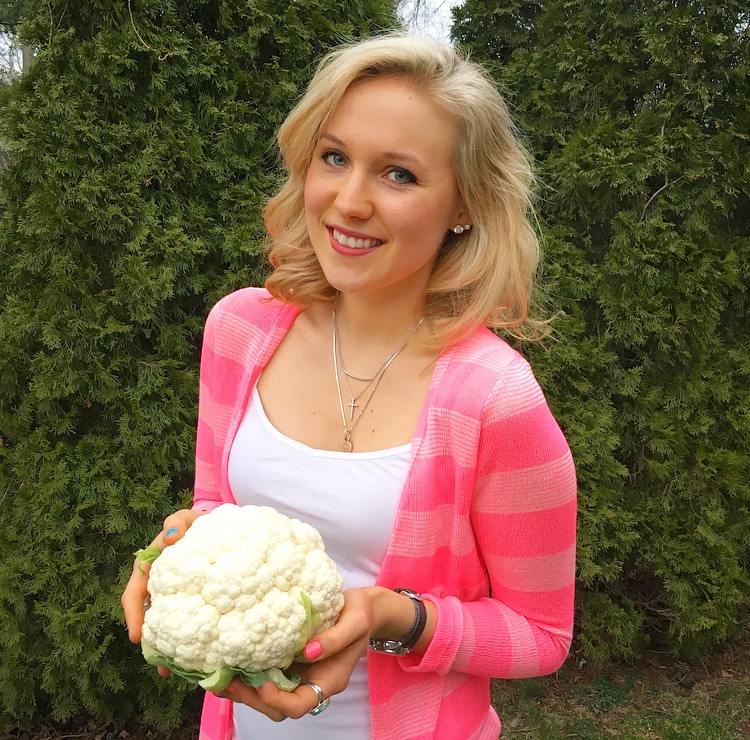 Spring is nature's way of saying, "Let's party!" -Robin Williams
Such a happy time of year…warm weather, bright flowers, cute outfits and new seasonal fruits and veggies to enjoy! Eating 'seasonally' and 'locally' is good for the health of the planet AND it's good for YOU. One of my favorite springtime foods is cauliflower!
People tend to forget about cauliflower. I know, it's kind of bland. Bright red tomatoes, cheerful yellow squash and dark green spinach get all the attention. They're all amazing, but did you know that cauliflower is actually a superfood? Plus, it's super versatile- it can be eaten raw, boiled and mashed (great potato substitute), braised, steamed, panfried, or my personal favorite, roasted!
There are so many health benefits of cauliflower. Did you know that one serving has 77% of your vitamin C needs? It's loaded with dietary fiber, which aids in healthy digestion. It contains lots of vitamin B (to energize) and K (to fight inflammation). Many studies have shown that diets high in cauliflower help prevent cancer. It's been shown to boost brain health, improve kidney function, and reduce blood pressure, too.
Cauliflower is the perfect detox food. Light and nourishing… perfect for Spring!
Here's a quick recipe for roasted broccoli and cauliflower!
Roasted Cauliflower and Broccoli
2016-03-23 22:00:46
Serves 1
Nutrition Facts
Amount Per Serving
* Percent Daily Values are based on a 2,000 calorie diet. Your Daily Values may be higher or lower depending on your calorie needs.
Ingredients
1 cup chopped cauliflower
1 cup chopped broccoli
1 teaspoon olive oil
1/4 teaspoon sea salt
1 teaspoon turmeric
1 teaspoon curry powder
Instructions
Preheat oven to 350
On a lightly greased pan add chopped veggies
Mix with oil and seasoning
Bake for 20 minutes (turning veggies halfway through)
Enjoy!
Hello Healthy Eating http://hellohealthyeating.ipage.com/