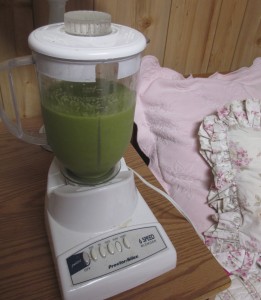 I've loved smoothies for quite some time, but I always found the idea of a "Green Smoothie" to be rather intimidating.  It's not that I don't enjoy veggies, it's just that the thought of drinking them in a bright green liquid form always seemed a bit daunting.  Well…my opinions on them have been forever changed with this recipe!  Inspired by Nutritionist Kimberly Snyder, I decided to make my own Green Smoothie!
This smoothie would make a great 'pre-breakfast' drink if you don't feel like eating heavy solid foods that early in the morning but you still want a healthy burst of energy to get you going.  It would also be great paired with a bowl of oatmeal topped with fresh almond butter; or as a side to flaxseed crackers and natural peanut butter!  Ohhh… I'm getting hungry just thinking about all the options!  Anyways, here is the recipe:
(Plus, it's easy enough to make it your dorm room before class!)
Ingredients:
1 cup spinach
1 cup mixed fresh/ frozen fruit
(I used nectarines, apricots, grapes and melon)
Splash of pre-made Mango Smoothie (make sure it only contains fruits)

Instructions:  
Blend and enjoy!  
(Seriously… you will love this!  And you will be hooked on green smoothies!)