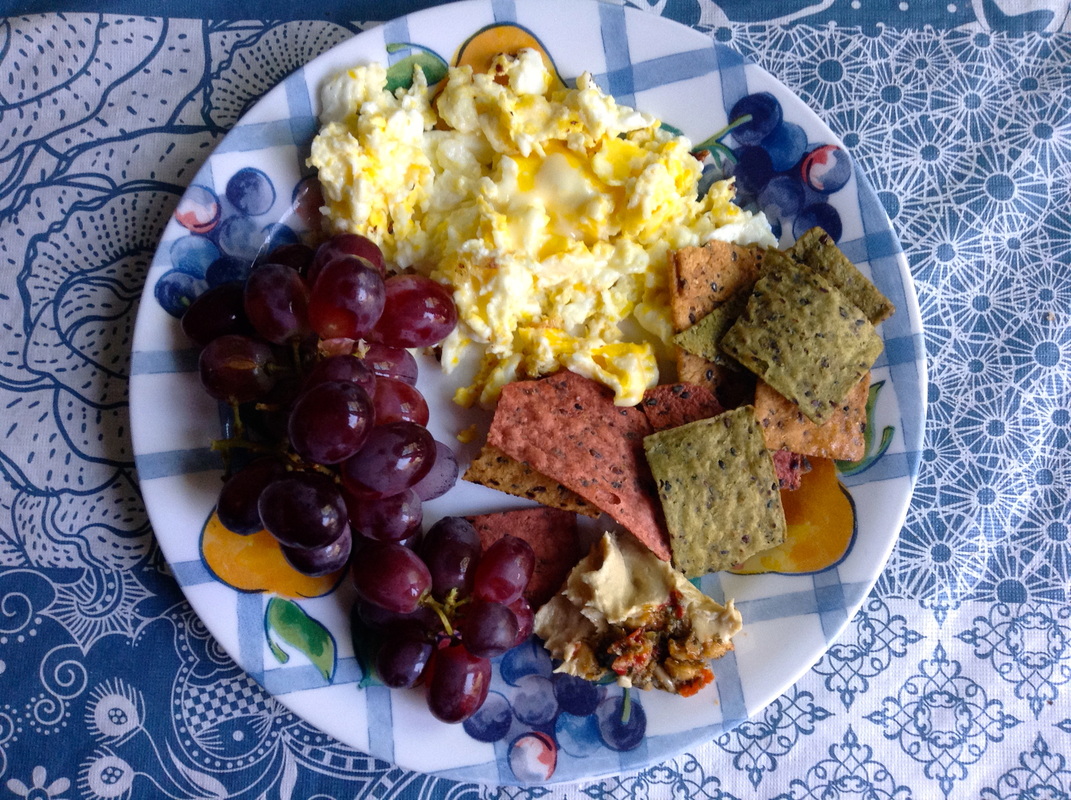 Your mom was right!  Breakfast really IS the most important meal of the day.  
What did you eat for breakfast today??  For the past couple of weeks I've been enjoying EGGS for breakfast!  And for good reason!  Eggs are chock full of fat-fighting protein!  I can personally attest to their 'fill up and fuel up' ability.
In fact, I read in a health magazine that people who ate eggs and meat for breakfast ended up eating an average of 290 calories less than their counterparts who ate the equivalent caloric breakfast in the form of cereal.  This is because there was a 20% decrease in the egg-eaters' ghrelin (a hunger hormone) post breakfast!  Do you want to shape up for the summer without dieting… try eating eggs for breakfast!
According to 'The Incredible Egg', eggs only cost roughly 15 cents a piece!!  Talk about eating healthy on a budget!!  They have only 70 calories each and over 6 grams of protein!  Of course, people have always worried about the cholesterol in eggs, but according to the USDA, if you're cutting back on saturated and trans fats in your diet (which are much worse), you should be fine.  All the cholesterol in an egg is found in the yolk, so you can eliminate the yolk every now and then.  The protein in eggs helps build muscle strength and prevent muscle loss as we get older. They have iron, vitamins, and minerals… they are really a perfectly packaged power food!  On average, a healthy adult can enjoy an egg everyday!
And don't think 'eggs for breakfast' = sheer boredom.   There are so many different ways to enjoy eggs!  This morning I whipped mine into a savory pepper-spinach-bacon omelet.  Yesterday I ate them sunny side up with a bit of fresh ham on the side!  I love them scrambled with a splash of milk and a bit of cheese or I'll eat 'em scrambled with some fresh tomato from our tomato plant outside! 
Too busy to create your own egg-masterpiece?  Grab a couple hard-boiled eggs to eat on the run.  'Pack that protein' and take it with you!  I've even enjoyed my eggs sweet!  Ever hear of banana-egg pancakes?!  So simple… I just blended two eggs with one ripe banana and a splash of almond-coconut milk.  I poured that like regular pancake batter and fried 'em up!  I topped my 'pancakes' with a bit of almond butter and a drizzle of natural maple syrup!  YUM!
Eggs for breakfast may not be for everyone… but I love 'em!  I'm hooked!  I love the nutrition they provide and the way they nourish my body and energize me for a busy day ahead… and as you can tell, there are so many different ways to enjoy them!
How about you?!  Do you like eggs for breakfast?  Have you ever tried banana-egg pancakes?  Have yourself an 'Egg-cellent Day!'