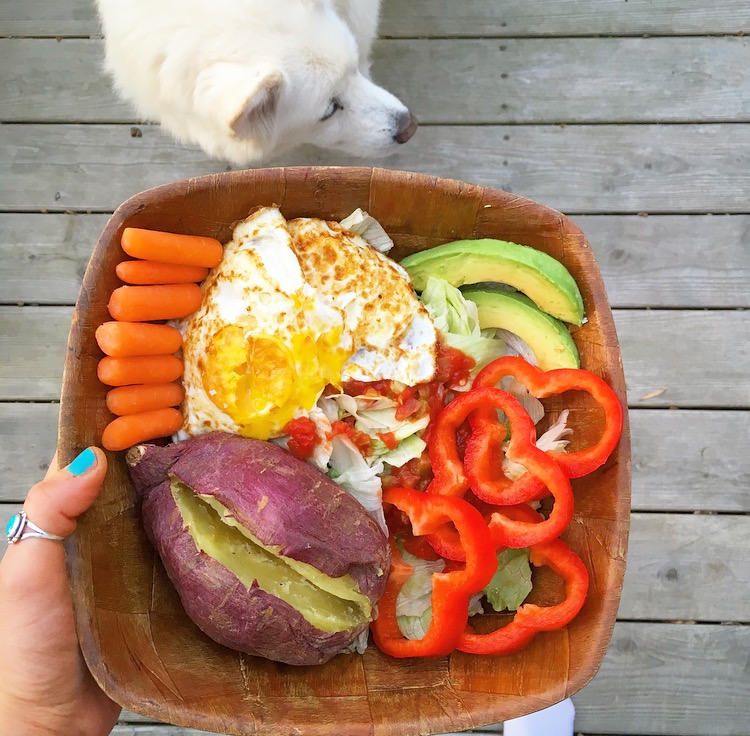 "I really regret eating healthy today." said no one ever…
You guys know I LOVE my
nourish bowls
… honestly, there's something SO comforting about a big bowl-full of healthy eats. One of my favorite things about eating healthy? You're not stuck with skimpy portions of boring, low calorie foods. When you ditch the processed foods and fill up on simple, whole, REAL foods, you really CAN eat a lot.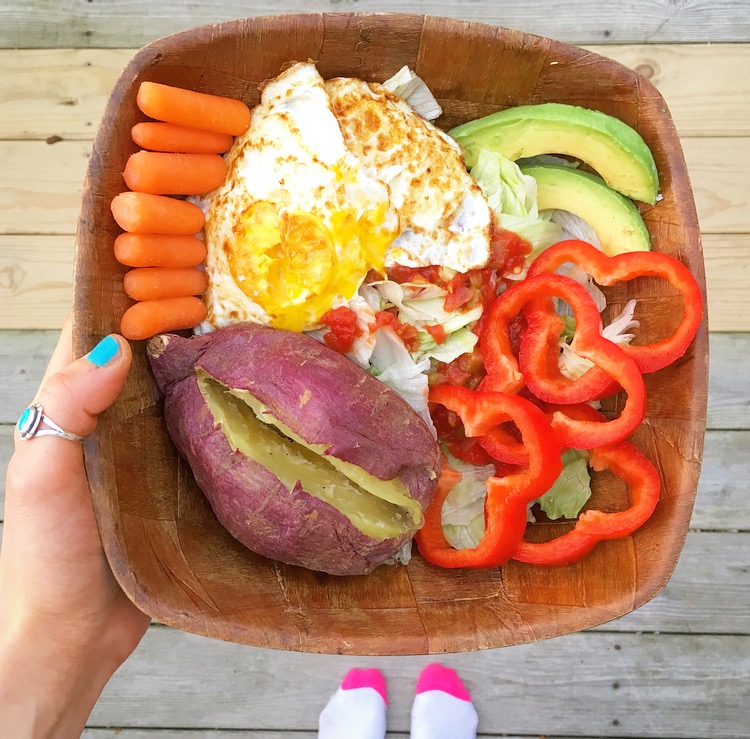 Getting rid of preservatives, sodium, colorings, trans fats and refined carbs is truly a 'gift' you give yourself. Your body deserves delicious nutrients and vitamins– free of chemicals and additives. Studies have shown that when you eat unprocessed foods your body burns more calories while digesting them. You will lose some weight, increase your energy, fight heart disease, cultivate a healthy mind, and enjoy glowing skin. Do you really need more reasons to 'eat right?'
This bowl is balanced, delicious, filling, satisfying, and it only takes 5 minutes to make! Without further ado- Here's my recipe:
Balanced Buddha Bowl!
2016-03-21 11:32:30
Serves 1
A simple bowl with just a few ingredients! Filling, healthy and delicious! Totally gluten free, grain free, dairy free, soy free and Paleo!
Nutrition Facts
Amount Per Serving
* Percent Daily Values are based on a 2,000 calorie diet. Your Daily Values may be higher or lower depending on your calorie needs.
Ingredients
1 white sweet potato
2 eggs
3 cups lettuce
1/4 cup salsa
1/5 avocado (chopped)
1/2 cup carrots
1/4 cup chopped red pepper
Instructions
Clean and microwave sweet potato for 8 minutes
Chop lettuce, place in bowl and set aside
Pan fry 2 eggs
Add salsa, veggies, eggs and cooked potato to bowl
Enjoy!
Hello Healthy Eating http://hellohealthyeating.ipage.com/
If you follow me on Instagram, then you know I LOVE sweet potatoes. Honestly I'm a little OBSESSED with Japanse White Sweet Potatoes. If you haven't tried them yet, you MUST. Such a game changer! I eat them any excuse I get.
What about you? What's your favorite nourishing combo? What foods have you been LOVING lately?!