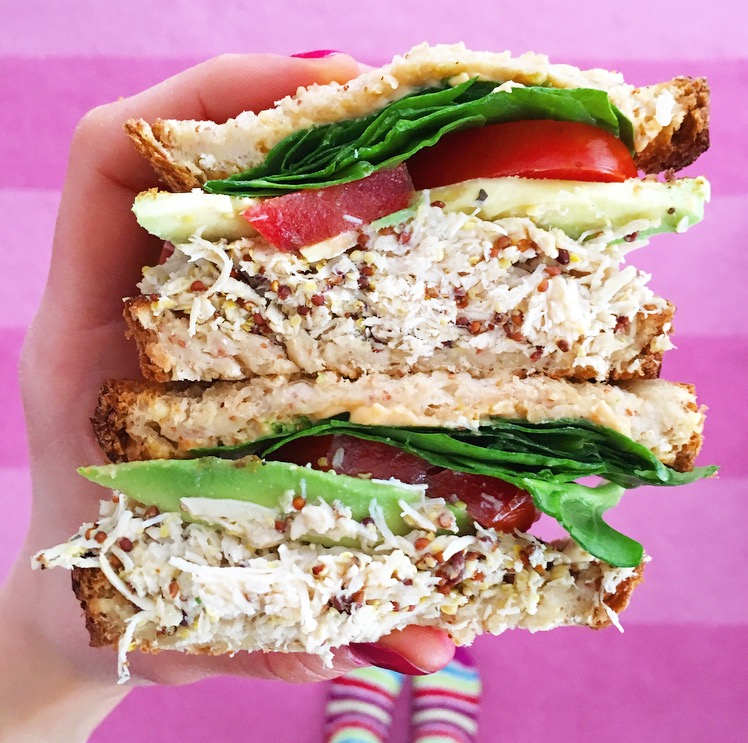 Weight Loss is HARD work. As someone who has personally lost 35 pounds and continues to maintain that loss, I know just how important it is to eat well. Sure, you CAN lose weight simply counting calories and focusing on portion control… in fact, that's exactly what I did when I first got started. But in order to keep the weight off, and maintain that happy healthy lifestyle, you need to change your diet. Now, I'm not about extremes, but even little baby steps towards a healthier diet are steps in the right direction. So today I want to share with you my favorite foods for weight loss. These are all healthy, delicious foods that I eat regularly and truly enjoy.
My Top Ten Favorite Foods for Weight loss and Maintenance:
Carrots: Okay, this is a little embarrassing. I eat so many carrots that the palms of my hands and soles of my feet actually have a slight orange tint to them! But it's worth it. Carrots are low in calories and high in nutrients. I munch on them whenever I need a quick pick-me-up, or while I'm in the kitchen preparing my next meal.
Avocado: Hello Healthy Fat! Avocado is a great source of unsaturated fat. This unique fruit is very satiating but only has about 120 calories per half. No cholesterol, no sodium, full of fiber, heart-healthy, and delicious. It's so versatile and it keeps you full throughout the day.
Salsa: Oh, I LOVE salsa. I can (and do) eat it by the spoonful! I eat it with carrots or celery (for the healthy girls' take on chips and salsa) or I pour some on top of my spinach salad for a low calorie, all natural dressing. It's got plenty of vitamins A and C and the 'power punch' of flavor that goes a long way in keeping you satisfied.
Chicken: High in protein, low in fat and calories! Chicken is good for your muscles (all that protein), your bones (phosphorous and calcium), and your heart (B6). Adding a little chicken to my sammie (pictured above) ensures that my body gets the complete protein that it needs. I mixed some plain shredded chicken with whole grain mustard for an easy, tasty chicken salad.
Oats: If you follow me on Instagram, then you know I'm OBSESSED with oats. I eat them for breakfast almost everyday. Oatmeal helps with digestion, lowers blood pressure and helps fight heart disease. You can add your own fun and healthy toppings, like nut butter and every type of fresh fruit. Make sure to get the unsweetened stovetop kind that's naturally sugar free!
Powdered Peanut Butter/ nut butter: I love nut butter, but the fat and calories can add up FAST. When I was losing weight I discovered PB2 (powdered peanut butter). You simply mix the powder with water to create the consistency of peanut butter, but 2 tablespoons of this stuff has only 45 calories and a whopping 5 grams of plants based protein. Now that I've lost the weight, I mix it with 1/2 tablespoon of regular nut butter for a bit of healthy fat… but still lower in calories.
Salmon: Oh, SALMON. I love salmon. So healthy and nutritious, salmon is loaded with omega 3 fatty acids and its also a great source of complete protein (meaning it contains all 9 essential amino acids). It can be pricey, but now and then it's definitely worth it. Try salmon burgers from the frozen food section. Quick, easy, nutritious and delicious!
Cantaloupe: My favorite food ever… not even kidding! Cantaloupe is so hydrating, filling and delicious. Cantaloupe is 90% water… so you can fill up without filling out! I eat it with my meals or as a sweet treat for a healthy dessert.
Sweet Potatoes: Soft, subtly sweet and naturally nutritious. Move over processed, gluten-y bread and say hello to a delicious baked sweet potato that's packed with vitamins. I eat sweet potatoes all the time. They were definitely a part of my weight loss journey. An hour in the oven, split them open and sprinkle with heart healthy cinnamon. I usually bake an extra one and save it for later. Yummm!
Dark chocolate: NO deprivation here… I eat a few squares of quality dark chocolate every night! I never feel the need to fill up on junky chocolate or processed snacks because I know that at the end of the day, I get my chocolate. Checkout my post about 'Self Love' to see why dark chocolate is so special to me. Long story short… it helped me lose the weight 'happily'. It helps maintain my weight and it nourishes my mind, body, soul and spirit! Now THAT'S what Hello Healthy Eating is all about!
How about you? Have you lost some weight? What are your fave foods for keeping you happy and healthy while you're at it!